Elevator to the Gallows (Ascenseur pour l'échafaud)
(1958)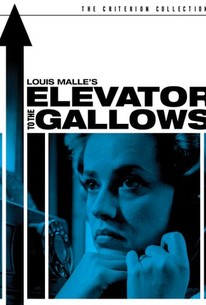 Movie Info
The feature-film debut of famed director Louis Malle is an interesting, modern film noir with the classic theme of lovers plotting to kill the husband and make it look like suicide (reminiscent of The Postman Always Rings Twice). Jeanne Moreau, as Florence Carala, gives an astonishing performance, perverse but naive as she leads her young lover down a path that can only lead to doom for both of them. Malle and his cinematographer Henri Decae make extensive use of Paris at night, giving the film the feel of claustrophobia and desperation reminiscent of the classic noir films. The excellent score by Miles Davis adds to the entire effect of this mystery thriller. ~ Linda Rasmussen, Rovi
News & Interviews for Elevator to the Gallows (Ascenseur pour l'échafaud)
Critic Reviews for Elevator to the Gallows (Ascenseur pour l'échafaud)
Audience Reviews for Elevator to the Gallows (Ascenseur pour l'échafaud)
Elevator to the Gallows is a solid French thriller, that is very similar to Hitchcock movies. There's a lot of suspense, but no twists and turns. We are told everything that it is going on, but there's still a lot of suspense. All of the performances are very good especially Jeanne Moreau. Miles Davis' score is fantastic and suits the movie well. When people say, "they don't make them like they used to;" this is the type of movie that they are referring to.
Melvin White
Super Reviewer
Clever, atmospheric thriller with a fine Miles Davis score.
a hitchcockian thriller that was not only malle's first film but an anomaly in that he never touched the genre again. what he accomplished with this film at 24 years old is remarkable in that so few other crime stories have ever touched the flawless execution and tension building that we find in this film. the miles davis score is perfect as a tone setter considering he recorded the entire thing in one day. the way the film was shot, the intricacies of the plot, and the excellent acting all come together to form a perfect movie. usually in noir style films the detective character is an emphasis, but the great lino ventura blends into this highly detailed story in an appropriately subtle way. a masterpiece of film making.
Elevator to the Gallows (Ascenseur pour l'échafaud) Quotes
There are no approved quotes yet for this movie.