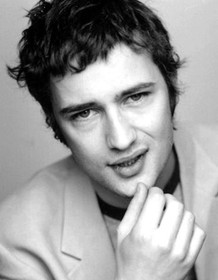 Karl Geary
Highest Rated: 93% I Am Not a Serial Killer (2016)
Lowest Rated: 33% The Eternal (1998)
Birthday: May 31, 1972
Birthplace: Dublin, Ireland
Karl Geary was an actor with a strong presence in film throughout his Hollywood career. Geary began his acting career appearing mainly in films, such as "Nadja" (1995), the Ian Hart dramatic adaptation "Gold In the Streets" (1997) and the "Trance" (1998) film with Alison Elliott. He had a part on the television special "Painted Lady" (PBS, 1997-98). He also appeared in the TV movie "Montana" (HBO, 1997-98). He worked in television in his early acting career as well, including a part on "Sex and the City" (HBO, 1998-2004). He continued to work steadily in film throughout the early 2000s, appearing in the dramatic adaptation "Hamlet" (2000) with Ethan Hawke, the drama "The Book of Stars" (2000) with Mary Stuart Masterson and "Coney Island Baby" (2003). He also appeared in "Mimic Sentinel" (2003) with Amanda Plummer. He also starred in the TV movies "Esther" (ION Television Network, 2000-01) and "Hysteria: The Def Leppard Story" (VH1, 2000-01). Recently, he tackled roles in the Liane Balaban drama "Happy Here and Now" (2005), "Satellite" (2006) and the horror flick "The Burrowers" (2008) with William Mapother. He also appeared in the Vinessa Shaw crime thriller "Stag Night" (2010) and the Sally Kirkland drama "Archaeology of a Woman" (2014). He also worked in television during these years, including a part on "Gravity" (Starz, 2009-2010). Geary most recently acted in the dramatic biopic "Jimmy's Hall" (2015) with Barry Ward.
Photos
NADJA, Karl Geary, Elina Lowensohn, 1994
SATELLITE, Karl Geary, Stephanie Szostak, 2004.
I AM NOT A SERIAL KILLER, from left: Max Records, Karl Geary, 2016. © IFC Films
I AM NOT A SERIAL KILLER, from left: Max Records, Karl Geary, 2016. © IFC Films