Mimic: Sentinel
(2003)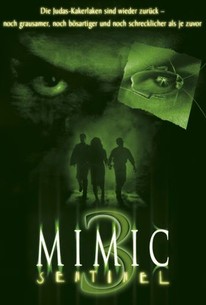 Movie Info
An unlikely fusion of Alfred Hitchcock's Rear Window and the Mimic franchise, director J.T. Petty (Soft for Digging) takes the helm for this third installment in the giant killer cockroach series. Unable to leave the germ-free confines of his sterilized bedroom for any real stretch of time, environmentally hypersensitive Judas child Marvin (Karl Geary) spends his days taking pictures of his neighbors from his window. Occasionally catching glimpses of his young sister Rosy (Alexis Dziena) being romanced by the neighborhood drug dealer, Marvin's lens remained mostly fixed on a mysterious neighbor known as "The Garbageman" (Lance Henriksen) and pretty neighbor Carmen (Rebecca Mader), while his slightly overbearing mother (Amanda Plummer) rests on the couch. As neighbors begin disappearing and mysterious figures move in and out of Marvin's viewfinder, the secluded voyeur begins to suspect that a sinister force is at work in his neighborhood. Though Rosy and Carmen are anxious to assist in a little detective work, the situation soon begins to spiral out of control upon the discovery that the Judas breed is far from extinct.
Critic Reviews for Mimic: Sentinel
Audience Reviews for Mimic: Sentinel
Departing from the previous films, Mimic 3: Sentinel attempts to deliver a murder mystery with a twist. In a classic Rear Window scenario a medically infirm young man takes photos of the goings on of his neighboring apartment complex and becomes obsessed when he seemingly witnesses a murder, but when his sister goes to investigate she finds something that neither of them could have ever expected. There are some interesting actors in the cast, including Alexis Dziena, Rebecca Mader, and Lance Henriksen, but their performances are rather mediocre. And the tone of the film is uneven, as the mystery and horror elements don't really work together. Poorly made and unfocused, Mimic 3: Sentinel marks a low point in the series.
Dann Michalski
Super Reviewer
Third and final part in the Mimic trilogy is a mediocre movie that suffers from a lack of originality. After the decent second movie, Mimic seemed to be concluded. However that was not to be. This third part is just a wasted opportunity to end a good little trilogy of Sci Fi horror films. This one really doesn't add anything new and recycles old ideas. This is a boring film that just fails to capture the shocks and thrills of the original film. This could have been a great movie, if there would have been more effort put into the film. Instead, the filmmakers stumble around and make a movie that just isn't interesting or entertaining for that matter. This was a train wreck and not even the tense moments could save this film. Mimic 3 is a pointless film that just tries too hard at delivering the chills; in turn it just fails and is a boring movie from start to finish. Add to that a lacking cast of actors, and you have a highly forgettable movie that leaves you wanting more. Mimic fans will surely be disappointed with this film, and it has nothing interesting or new to offer viewers looking for a good horror film to watch. The original del Toro directed feature was a flawed, but very good monster movie and the second film was decent as well, even if it relied on previously released material. If you've enjoyed the first two movies, you'll surely be disappointed by this third and final entry in the Mimic trilogy. This entry could have been good if the script was better, however it simply ends up falling flat. Even the gory elements of the film are not enough to make this one standout. This is just a mediocre end to an average horror trilogy. Del Toro's original will always standout and its follow-up is mindless fun, but the third is pointless and dull.
In a nutshell this is Rear Window with giant bugs. This is a decent sequel to " Mimic" that works despite its low budget ( most of the film, even the exteriors are shot on a set). It has its own sense of style and actually has some very creepy and scary scenes that are played in shadow. I'm sure its one of those cases of financial necessity leads to creative invention since you can tell they didn't have the budget for huge effects shots. Also you have a solid cast here with Alexis Dziena and Lance Henriksen being the standouts To sum up, This one is worth a look if your in the mood for a good horror rental and if your a fan of Mimic.
David Ladd
Super Reviewer
Mimic: Sentinel Quotes
There are no approved quotes yet for this movie.