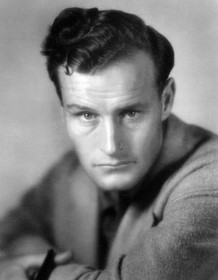 William A. Wellman
Highest Rated: 100% Yellow Sky (1948)
Lowest Rated: 40% Blood Alley (1955)
Birthday: Feb 29, 1896
Birthplace: Brookline, Massachusetts, USA
Having directed nearly 80 motion pictures throughout his career, William Wellman was an extraordinarily prolific director whose output contained a number of cinematic gems amidst a rather unexceptional canon. Wellman started his career during the silent era and had the prestige of directing the World War I actioner, "Wings" (1927), which was the first motion picture to ever win an Oscar for Best Picture. He spent the next 10 years directing a string of forgettable movies until reaching new heights with the scathing screwball comedy "Nothing Sacred" (1937) and the original version of "A Star Is Born" (1937), which earned him the only Academy Award of his career. Wellman went on to direct the dark and gritty Western "The Ox-Bow Incident" (1943), the tone of which ran counter to America's thirst for escape from the war, therefore sealing its fate as a commercial failure, though it lived on as one of Wellman's masterpieces. From there, he helmed a number of great Westerns and war-themed movies like "The Story of G.I. Joe" (1945), "Yellow Sky" (1948) and "Battleground" (1949). Late in his career, Wellman teamed with John Wayne on the terror-in-the-skies thriller "The High and the Mighty" (1954), but rode off into the sunset on the back of several mediocre films until his retirement in 1958. Though his career was uneven, Wellman directed enough film classics to be considered one of the premier directors of Hollywood's Golden Age.
Photos
BATTLEGROUND, director William Wellman, Van Johnson, 1949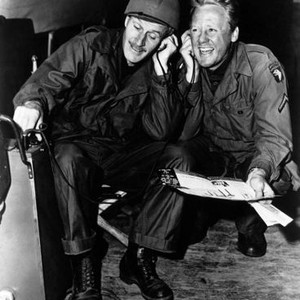 LAFAYETTE ESCADRILLE, William Wellman directing his son William Wellman Jr. on set, 1958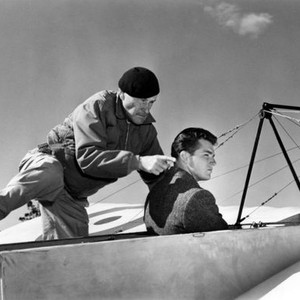 LAFAYETTE ESCADRILLE, William Wellman Jr., Tab Hunter, Jody McCrea, David Janssen, 1958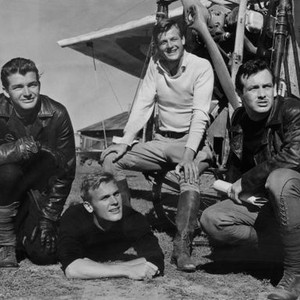 GALLANT JOURNEY, Janet Blair, director William Wellman, on-set, 1946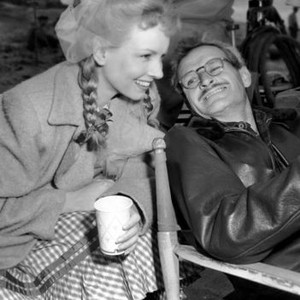 LAFAYETTE ESCADRILLE, William Wellman, Jr., Tab Hunter, 1958.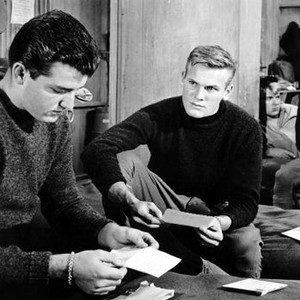 Skip to Quotes
Filmography
Movies
Credit

No Score Yet

25%

Lafayette Escadrille
Director,
Producer,
Screenwriter
-
1958

No Score Yet

42%

Darby's Rangers
Director
-
1958

No Score Yet

90%

Goodbye, My Lady
Director
-
1956

40%

45%

Blood Alley
Director,
Producer
-
1955

98%

81%

A Star Is Born
Writer
-
1954

No Score Yet

50%

Ring of Fear
Director
-
1954

42%

59%

The High and the Mighty
Director
-
1954

No Score Yet

50%

Track of the Cat
Director
-
1954

83%

62%

Island in the Sky
Director
-
1953

No Score Yet

36%

My Man and I
Director
-
1952

No Score Yet

84%

Westward the Women
Director
-
1951

No Score Yet

10%

It's a Big Country
Director
-
1951

No Score Yet

37%

Across the Wide Missouri
Director
-
1951

No Score Yet

65%

The Next Voice You Hear
Director
-
1950

No Score Yet

86%

The Happy Years
Director
-
1950

78%

83%

Battleground
Director
-
1949

100%

78%

Yellow Sky
Director
-
1948

No Score Yet

No Score Yet

Behind the Iron Curtain
Director
-
1948

No Score Yet

53%

The Iron Curtain
Director
-
1948

50%

36%

Magic Town
Director,
Producer
-
1947

No Score Yet

No Score Yet

Gallant Journey
Director,
Screenwriter,
Producer
-
1946

No Score Yet

No Score Yet

This Man's Navy
Director
-
1945

77%

73%

G.I. Joe
Director
-
1945

No Score Yet

48%

Buffalo Bill
Director
-
1944

91%

91%

The Ox-Bow Incident
Director
-
1943

67%

51%

Lady of Burlesque
Director
-
1943

No Score Yet

44%

The Great Man's Lady
Director,
Producer
-
1942

No Score Yet

38%

Thunder Birds
Director
-
1942

82%

57%

Roxie Hart
Director
-
1942

No Score Yet

No Score Yet

Reaching for the Sun
Director
-
1941

100%

85%

Beau Geste
Director,
Producer
-
1939

No Score Yet

No Score Yet

The Light That Failed
Director
-
1939

No Score Yet

No Score Yet

Men With Wings
Director
-
1938

100%

79%

A Star Is Born
Director
-
1937

92%

69%

Nothing Sacred
Director
-
1937

No Score Yet

65%

Small Town Girl
Director
-
1936

No Score Yet

No Score Yet

Robin Hood of El Dorado
Director,
Screenwriter
-
1936

No Score Yet

No Score Yet

One Horse Town
Director
-
1936

No Score Yet

52%

Call of the Wild
Director
-
1935

No Score Yet

40%

Stingaree
Director
-
1934

No Score Yet

No Score Yet

The President Vanishes
Director
-
1934

No Score Yet

56%

Frisco Jenny
Director
-
1933

88%

75%

Wild Boys of the Road
Director
-
1933

No Score Yet

No Score Yet

College Coach
Director
-
1933

No Score Yet

No Score Yet

Central Airport
Director
-
1933

No Score Yet

No Score Yet

Lilly Turner
Director
-
1933

No Score Yet

66%

Midnight Mary
Director
-
1933

No Score Yet

No Score Yet

Looking for Trouble
Director
-
1933

75%

68%

Heroes for Sale
Director
-
1933

83%

53%

Female
Director
-
1933

No Score Yet

No Score Yet

Love Is a Racket
Director
-
1932

No Score Yet

49%

The Purchase Price
Director
-
1932

No Score Yet

No Score Yet

The Conquerors
Director
-
1932

No Score Yet

50%

So Big
Director
-
1932

No Score Yet

No Score Yet

Pioneer Builders
Director
-
1932

No Score Yet

13%

The Hatchet Man
Director
-
1932

No Score Yet

49%

Other Men's Women
Director
-
1931

100%

84%

The Public Enemy
Director
-
1931

82%

74%

Night Nurse
Director
-
1931

No Score Yet

62%

Star Witness
Director
-
1931

100%

41%

Safe in Hell
Director
-
1931

No Score Yet

No Score Yet

Young Eagles
Director
-
1930

No Score Yet

No Score Yet

Eleven Men and a Girl
Director
-
1930

No Score Yet

No Score Yet

Dangerous Paradise
Director
-
1930

No Score Yet

No Score Yet

Chinatown Nights
Director
-
1929

No Score Yet

No Score Yet

Woman Trap
Director
-
1929

No Score Yet

No Score Yet

The Man I Love
Director
-
1929

85%

No Score Yet

Ladies of the Mob
Director,
Producer
-
1928

90%

No Score Yet

The Legion of the Condemned
Director,
Producer
-
1928

93%

79%

Wings
Director
-
1927

No Score Yet

11%

The Boob
Director
-
1926

No Score Yet

No Score Yet

You Never Know Women
Director
-
1926

No Score Yet

No Score Yet

Second Hand Love
Director
-
1923

No Score Yet

No Score Yet

The Knickerbocker Buckaroo
Henry (Character)
-
1919