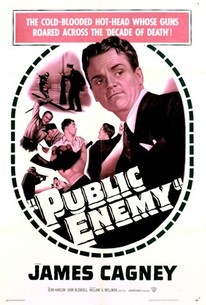 The Public Enemy
1931, Crime/Drama, 1h 24m
32 Reviews
5,000+ Ratings
Where to watch
Rent/buy
Rent/buy
Subscription
Rent/buy
Rate And Review
Movie Info
Two young Chicago hoodlums, Tom Powers (James Cagney) and Matt Doyle (Eddie Woods), rise up from their poverty-stricken slum life to become petty thieves, bootleggers and cold-blooded killers. But with street notoriety and newfound wealth, the duo feels the heat from the cops and rival gangsters both. Despite his ruthless criminal reputation, Tom tries to remain connected to his family, however, gang warfare and the need for revenge eventually pull him away.
News & Interviews for The Public Enemy
Audience Reviews for The Public Enemy
Cagney is something special in this film, an early gangster and bootlegging movie that was made in 1931, while Prohibition was still the law (it ended in 1933). The way he wears his many hats, the way he talks, and the way he playfully bumps his fist into someone's face as a sign of respect is all truly iconic. He is great in scenes of pure evil, the most famous of which has him smashing a grapefruit in a lover's face for not serving him alcohol for breakfast. There are several others though - spitting beer in a bartender's face for selling a competitor's product, killing a horse for having thrown and killed his boss, killing a guy who had betrayed him years ago, 'Putty Nose', without remorse, shocking even his partner, and slapping a woman for seducing and sleeping with him the night before while he was drunk. The seduction is clearly pre-Code as there is no doubt what's happening, but it's far from erotic, and more of an indication of the depths to which he's sinking before his ultimate end. And yet, despite all this, and despite the warnings that Warner Bros. put at the beginning and ending of the film, to the point that they were not trying to glorify gangsters, we somehow still care about Cagney, and as much or more so than his upright and moral brother, who dutifully goes off to WWI, doesn't take crooked money, and tries to set him straight. There seems to be little threat that he's going to be arrested, it's rival gangs that threaten him, not the police (which is perhaps telling to the sentiment of what was going on in Chicago and other cities at the time), but we don't want to see him gunned down. The rest of the cast is decent but mostly in the background, even Jean Harlow, who is actually a bit ghoulish as one of Cagney's love interests. Joan Blondell is frankly better, and says a lot with her eyes as his partner's girlfriend. The only poor bit of casting was Leslie Fenton, he is not believable as big mob boss 'Nails' Nathan. The action is all a bit over-the-top, and I'm not that big a fan of the modern gangster film, but this one has that sense of being historical and classic, and as such was entertaining. It's also definitely worth watching just to see Cagney.

This film is actually a bit overrated. I was actually very disappointed. I was expecting a masterpiece. Something that would have me screaming because to tell you the truth me and gangster films are like a screaming fan girl. It was weak in the writing so I don't know why it got nominated for best screenplay at Oscars. It was a different time so I'm not to worried. The acting was also lacking. But it is a classic and there acting was different back then. This was filmed around the time when modern acting was just getting started. Hollywood was also making the transition from silent films to talkies so they where probably just struggling. The plot was also a bit weak. There weren't much interesting scenes. I think even I could have done a much better job. But this film isn't all bad. There where some things about this film. It was an okay watch. The ending was also shocking and it probably was even more shocking back then. This is one classic that I hope they remake because I'm pretty sure they won't ruin it. Needles to say, if you like classic gangster films then you should watch this one. It's a must.

Brutal, explosive and honest depiction of a societal stratus raised in the noir slums, bold for such an early year. Tom Powers was among the first personifications that propelled Cagney's name into Hollywood stardom, and still several modern performances today haven't been able to scratch the level of such great celluloid incarnations, let's not say top it. 99/100

Typical gangster story, predictable, but with an unexpected ending.
See Details