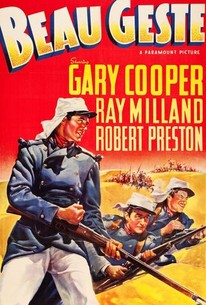 Beau Geste
1939, Adventure, 1h 54m
11 Reviews
500+ Ratings
Rate And Review
Movie Info
Beau, John and Digby Geste are brothers who join the Foreign Legion, where they fall under the rule of tyrannical Sergeant Markoff. Beau and John are assigned to Fort Zinderneuf, where Markoff tries to break their spirit, aware of a dark family secret concerning a fabulous jewel one of them carries. As tensions rise, Arabs attack the fort and rivalries must be thrown aside in a desperate battle for life.
Audience Reviews for Beau Geste
A pretty good story, but the movie is kind of boring too. I've never really cared for military stories, but this one has more to it. It's a pretty good movie.

The year 1939 was a pennicle point in cinema. 1939 brought out a lot of great films and the action-adventure spectacle "Beau Geste" is one of them. In the best-known version of novelist Percival Christopher Wren perennial, Gary Cooper, Ray Milliand, and Robert Preston play Beau,John,and Digby Geste,three inseparable adventurous brothers in search of adventure which one of them steals their benefactress's family jewel,it's off to the French Foreign Legion for all. A fairly deadly early flashback introduces the brothers as children-though it's the only time you'll ever see Donald O'Connor playing a younger version of Cooper. The movie really kicks into gear when the brothers enlist into the brutal stages of unjustly war. Directed by the great William A. Wellman,the supporting cast features future Oscar winners Broderick Crawford and Susan Hayward. Oscar nominee Brian Donlevy is excellent and so damn good as Sgt. Markloff that some think he should have taken the Oscar for Best Supporting Actor award for his riveting performance. Worth seeing.

This one is hard to find on DVD but well worth the effort to search it out. Gary Cooper is absolutely fantastic but it's the ensemble of Albert Dekker, Brian Donlevey, Broderick Crawford and Ray Milland that makes the whole thing work. Oh, and don't forget to check out a very young and very beautiful Susan Hayward in a supporting role.

Excellent Foreign Legion adventure with a great twist at the end (copied many times since).
See Details