Creature from the Black Lagoon
(1954)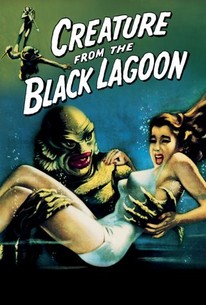 Creature from the Black Lagoon Videos
Creature from the Black Lagoon Photos
Movie Info
Universal Pictures introduced audiences to yet another classic movie monster with this superbly crafted film, originally presented in 3-D. The story involves the members of a fossil-hunting expedition down a dark tributary of the mist-shrouded Amazon, where they enter the domain of a prehistoric, amphibious "Gill Man" -- possibly the last of a species of fanged, clawed humanoids who may have evolved entirely underwater. Tranquilized, captured, and brought aboard, the creature still manages to revive and escape -- slaughtering several members of the team -- and abducts their sole female member (Julie Adams), spiriting her off to his mist-shrouded lair. This sparks the surviving crewmen to action -- particularly those who fancy carrying the girl off themselves. Director Jack Arnold makes excellent use of the tropical location, employing heavy mists and eerie jungle noises to create an atmosphere of nearly constant menace. The film's most effective element is certainly the monster itself, with his pulsating gills and fearsome webbed talons. The creature was played on land by stuntman Ben Chapman and underwater by champion swimmer Ricou Browning -- who was forced to hold his breath during long takes because the suit did not allow room for scuba gear. The end result was certainly worth the effort, proven in the famous scene where the Gill Man swims effortlessly beneath his female quarry in an eerie ballet -- a scene echoed much later by Steven Spielberg in the opening of Jaws. ~ Cavett Binion, Rovi
Rating:
G
Genre:
, , ,
Directed By:
Written By:
In Theaters:
On DVD:
Runtime:
Studio:
Universal Pictures
News & Interviews for Creature from the Black Lagoon
Critic Reviews for Creature from the Black Lagoon
Audience Reviews for Creature from the Black Lagoon
great atmosphere and underwater scenes! a monster movie classic
Stella Dallas
Super Reviewer
½
The story and characters are rather simplistic but the true reason to see this film is for the legendary "Gill Man". The underwater scenes are beautifully shot, containing a surreal sequence were Gill Man swims beneath an unsuspecting female diver. That scene would later inspire the opening sequence for Steven Spielberg's "Jaws". The music was also awesome, filled to the brim with dramatic orchestral cues. A must see for any fans of the monster movie genre.
Christopher Heim
Super Reviewer
There's a reason why this is one of the most legendary monster films in existence. It doesn't really have that good of a story, or acting, but the underwater photography is very good for the time. But what really sets this film apart is the creature itself. Now, the design hasn't exactly aged well (the suit is obviously made of rubber), but there's something that has aged far more gracefully than the rest of the film: the creature performance. The inherent problem with B-Monster-Movies of the 50s is that the people playing monsters in a suit moved like people just flailing like they had a bulky suit on. The Creature from the Black Lagoon MOVES like a Creature From the Black Lagoon. When Gillman (his official Universal Studios name) swims underwater, he doesn't move like someone awkwardly maneuvering in a rubber suit, he moves like an aquatic creature. The Gillman on land's movements are a bit questionable, but the creature's physical performance is convincing enough that it becomes strangely immersive as an experience. Add in some real suspense at points and you have one pretty dang good monster movie. Check it out.
Jacob Ethington
Super Reviewer
Creature from the Black Lagoon Quotes