A Little Romance
(1979)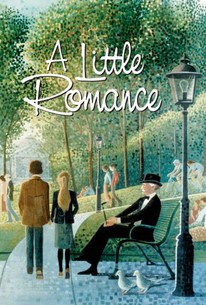 Movie Info
The disarming comedy A Little Romance features Diane Lane as a 13-year-old American, living in Paris with her businessman stepfather (Arthur Hill) and her promiscuous mother (Sally Kellerman). Mom is currently enamored with pretentious-filmmaker David Dukes, and it is on the set of Dukes' latest picture that Lane meets another 13-year-old, insatiable French film buff Thelonious Bernard. A likeable street-smart petty thief and gambler, Bernard is instantly attracted to Lane. With the help of roguish old Laurence Olivier, Lane and Bernard arrange a romantic rendezvous under the Bridge of Sighs in Venice. Naturally, when the kids disappear it's a cause for international concern, but all ends as it should. Some of the best moments in A Little Romance belong to Broderick Crawford, unselfconsciously playing "himself" at a movie party.
News & Interviews for A Little Romance
Critic Reviews for A Little Romance
Audience Reviews for A Little Romance
A Little Romance is actually a sweet and simple tale about young love that is sure to capture hearts. With its pretty interesting characters, light yet fascinating scenes, and lovely musical score, every minute was nothing less than charming. After seeing this little piece of jewel, I became in love with the idea of being in love a whole lot more.
Maymay Asahan
Super Reviewer
Not sure why I didn't like it as much as everyone else here, perhaps it's just a bit dated to me, yet young love will always be a timeless story.
Dannielle Albert
Super Reviewer
½
Super adorable. Two wicked smart kids, one French & one American, vow to "kiss under the Bridge of Sighs at sunset while the bells toll." When the girl, a super young Diane Lane, has to move back to America the two run off together with the help of Laurence Olivier. Teen romance and shenanigans ensue.
Ken Stachnik
Super Reviewer
A Little Romance Quotes
There are no approved quotes yet for this movie.