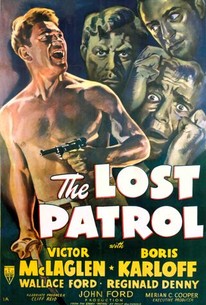 The Lost Patrol
1934, War, 1h 14m
6 Reviews
250+ Ratings
Where to watch
Rent/buy
Rent/buy
Rent/buy
Rate And Review
Movie Info
A British patrol is crossing the deserts of Mesopotamia during World War I when the commanding officer is suddenly struck down by an unseen sniper. Their sergeant (Victor McLaglen) suddenly finds himself in charge of the surviving members of his regiment, with no idea where they are or what their mission is. Barricaded at a desert oasis and surrounded by enemy snipers, with no way of summoning reinforcements, the sergeant is forced to call for volunteers for a suicide mission.
Audience Reviews for The Lost Patrol
"Yes, but what will you do when you're all alone, and there is no help coming?" Sort of an Alamo tale only pared down to a few archetypal characters, and sort of a boyhood backyard adventure play. Where it happens isn't even important, and only necessary for color. A platoon is cut off and surrounded with no way of escape and so it's "fight to the last man" against an unseen enemy who can kill from a distance. Along the way, we get bits of personality traits thrown like crumbs at us so that we get a feel for the polyglot of identities, pick and choose your favorites. This version, and there are many, is okay, and exceptional for it's use of Yuma, AZ locations.

"the lost patrol" is one of the classic war flick on the theme of agoraphobia and survivalist trauma, directed by classic john ford who also takes the directional wheel of "the wrath of grapes" as well as a bunch of john wayne classics. "the lost patrol" is about the wwi army lurks over the mesopotomian desert for temporal ease of oasis then besieged by the clandestine aribian assassinators, then gradually soldiers die one by one that corners and alienates its remained survivors until merely the sergent himself is kept alive to defeat the arabian crooks. in a nutshell, "the lost patrol" is a dirge upon the trainsient lives of war soldiers as well as their reluctant solace and unbearable sorrows, an anti-war nihilism on the futility of war or the glorification on the solemn sacrifice of millions of soldiers?? it might appear dry to some since it's mainly about dialogues of the characters' psychological interactions which delineates their mental states and also some primitive action scenes within the sequence of guerillas. two engrossing characters would be boris karloff's religious frantic who holds a giant cross of woodsticks to march torward the battlefield to make himself a myrtyr and victor mclaglen's sergeant who is a shattered widower living on the spared gleam of hopes for his son. the untimely rescue eventually feels like a preposterous mirage to deepen the sergeant's despair on the loss of numerous lives that contrarily thickens the simmering irony of war's fickleness. "the lost patrol" is a humanistic depiction upon the cruelty of war and its costy price on human blood.
See Details