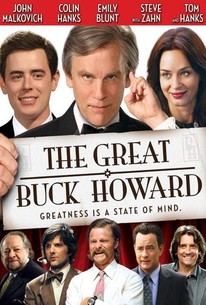 The Great Buck Howard
2008, Comedy/Drama, 1h 30m
94 Reviews
25,000+ Ratings
What to know
critics consensus
By turns fluffy and biting, this show biz comedy is given girth by comic heavyweight John Malkovich and made all the more charming by Emily Blunt. Read critic reviews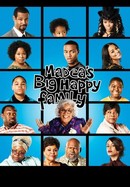 Tyler Perry's Madea's Big Happy Family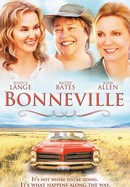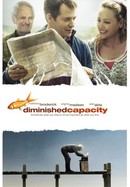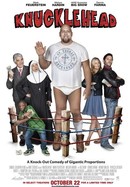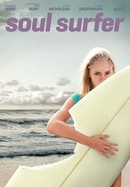 Where to watch
Rent/buy
Rent/buy
Rent/buy
Rate And Review
The Great Buck Howard Photos
Movie Info
Defying his father and dropping out of law school, aspiring writer Troy Gable (Colin Hanks) looks for a way to gain some meaningful life experience. Troy gets that and more when he takes a job with Buck Howard (John Malkovich), a vainglorious mentalist who hopes to reinvigorate his fading career by staging a big comeback.
News & Interviews for The Great Buck Howard
Audience Reviews for The Great Buck Howard
Buck Howard: I love this town!  "Greatness is a state of mind" I love this movie. Although, there were a few things wrong with it, such as Colin Hanks in the lead role(he's not his dad), the movie succeeds as a short charming comedy. The story or movie for that matter is nothing spectacular. It's actually quite average. But a great performance from John Malkovich and a solid supporting cast make for a great movie.  A movie that features both Malkovich and Emily Blunt will never be completely horrible. If not for their presence alone, there is always something to take away from a movie with one of them in it. Malkovich is in my top 5 favorite actors and right now Emily Blunt is probably my favorite movie star to watch. The rest of the supporting cast such as Steve Zahn and a little role from Tom Hanks are great as well. There is also an endless supply of cameos.  The movie is purely a fun movie that comes off as a sweet and touching little film in the end. The movie never tries to hard to make us laugh and I wouldn't be surprised if a lot of people don't laugh once throughout the entire movie. Obviously from the rest of the reviews, it seems I'm in the minority in liking and laughing at this one. I'm fine with others not liking this. Much like Charlyne Yi's Paper Heart, it has a small target audience. But that audience is out there.

A fun and entertaining movie made all the more enjoyable by Jon Malkovich. A little thin on narrative and development to be sure, but charming enough to largely make up for that. Loosely based on the Amazing Kreskin.

The Great Buck Howard.......Was GREAT!!!! I enjoyed every minute of it & John Malkovich was 1 of a kind as The Great Buck Howard.I liked the ending & I kinda didn't.In some ways I wish Troy would've stayed & in some ways, I'm glad he moved on with his life.Most of all, I'm just happy Buck kept doing what he loved

Using my great mental abilities (debatable for sure), I sense a paper thin plot, fleshed out by a totally unnecessary plot device (provided by Emily Blunt as Hanks Jr's love interest) that hampers a typically wonderous performance by Malkovich. As a kind of "inside" story about show business, the film works on a certain level, and the sweet ending, with its message about levels of sucess with a nod towards all those B type towns where B type talent ends up is a very nice sumnation and, for a change, a nice use of voice over narration (though I didn't much care for all the voice overs in the rest of the film). Hanks is passable as the neer do well who quits law school and gets a job serving as "road manager" to Buck Howard - a charactor inspired by The Amazing Kreskin. I did find it amusing that Hanks ultra famous Daddy appears as Hanks.... wait for it.... Daddy. The film is shot in a very matter of fact way - no artsy shots, just an earnest telling of a story (except for one nice touch when Buck descends a glass and mirrored stairway at a hotel to perform his "greatest feat"). In all, I found this passably entertaining, but very obvious in its intent, and just a bit too fast and loose with the whole Blunt/Hanks quasi love/friendship thing. Should you see this film - check your magic 8 ball - mine says "check back later". As an aside - consider the time and place - early 60's. ESP was just becomming an en vogue thing - I actually had a box "game" called something like "develope your ESP, as guided by.... The Amazing Kreskin". What you got in the box was a brief booklet alegedly penned by Kreskin saying that everyone had a degree of ESP and could hone those skills with practice. So the box included those funny flash cards with shapes on them. Talk about exploitation!
See Details