Everybody's Fine
(2009)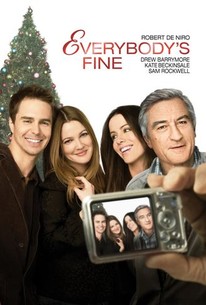 TOMATOMETER
AUDIENCE SCORE
Critic Consensus: A calm, charismatic performance from Robert De Niro nearly saves the movie, but ultimately, Everybody's Fine has the look and feel of a stereotypical Christmas dramedy.
Movie Info
A widower who realized his only connection to his family was through his wife sets off on an impromptu road trip to reunite with each of his grown children.
People Who Like this movie also like
News & Interviews for Everybody's Fine
Critic Reviews for Everybody's Fine
Audience Reviews for Everybody's Fine
Amy: I tell you the good news and spare you the bad. Isn't that what mom used to do for you when we were kids?  "Frank's traveling light, but carrying excess baggage." Everybody's Fine is a small, heartfelt, and overall decent film. It has a wonderful cast including legendary Robert De Niro, plus a supporting cast with Sam Rockwell, Drew Barrymore, and the gorgeous Kate Beckinsale. This is a good role for an older De Niro. He no longer fits the Travis Bickel like characters. He is now more suited for this type of a role. He plays a grieving father who has just lost his wife. His four kids all cancel their trip to see him, so he decides to take a cross country trip and see all of them. In the background, three of the kids are keeping a secret about the fourth from their father.  I liked Everybody's Fine, but I'm not gonna blow sunshine up its ass. It is by no means a terrific movie. It's predictable filmmaking. I called just about everything that happened in the movie fifteen minutes before it happened. But oh well; the point wasn't to surprise me. I enjoyed the movie for it's honesty when examining the life of a family. A lot of the subjects the movie brings up regarding family will hit home with just about every viewer. We always, as kids, had one parent we could talk to. The other was kind of left out of the loop because either they couldn't take what was actually going on, or they would over react. Frank is the parent who was always left out of the loop. His kids, after the passing of their mother, still don't tell him the bad things because he is a worrier.   There's really not too much to say about Everybody's Fine, except that it was fine. There's nothing too spectacular going on here, but I ended up finding it engaging and emotional. I don't think it laid on the tearjerking too thick either, which was much appreciated. It's just a decent little film in its own right. I'd suggest it, but I also wouldn't tell you that it is vital that you watch it. If you come across it one day in the future, give it a look. If not, you'll live. Still I don't know if you could find a movie where Kate Beckinsale looks hotter. She looks absolutely stunning in Everybody's Fine.
Melvin White
Super Reviewer
Well what a fantastic cast, the brilliance of Barrymore and Rockwell, the fantastic and gorgeous Beckinsale and the Awesomeness of De Niro :) Its a wonderful cast, with a wonderfully sweet and touching storyline, and with this great cast and storyline i was shock that this movie didnt have more publicity which is disappointing. A fantastic cast, wonderfully acted and just a lovely and sweet movie to watch. Really worth a watch!
Film Crazy
Super Reviewer
It has now seemingly reached the time where one of our greatest screen actors is no longer able to command certain roles. Occasionally though, an older, more mature role will surface which can still give a reminder of their talents. This is that role serving Robert DeNiro. Recently widowed, retired wire factory worker Frank Goode (DeNiro) realises all the contact he had with his four children was organised by his wife. When they all opt out of his planned family reunion, Frank takes it on himself to embark on a road trip to see his kids. As he does, he discovers they have been keeping secrets from him. First off, this is a remake of the 1990 Italian film with Marcello Mastroianni, and as far as these types of films go, it's nothing new. It's actually quite lightweight material and given the subject you'd be forgiven for expecting a bit more of a punch behind it. It doesn't wholeheartedly deliver the power it should. What it does do however, is achieve in giving DeNiro center stage. It's great to see him being the main attraction again and a real pleasure to spend time with him when he's not playing second fiddle to anyone. There has always been something personal about watching DeNiro act. His ticks; his smile; his grimace and his lack of eye-contact. They are all here but what's most refreshing is seeing him play the role of a retired older man in his twilight years. Now accepting his age. Over the years DeNiro has delivered so many eclectic characters that most movie goers will have identified with at least one of them along the way. This is another fine performance and ultimately, he's the highlight of the film. The supporting actors are good but are given very little to work with and the likes of Sam Rockwell would have chewed up a meatier role. Sadly he's not provided with it. There are some lovely moments peppered throughout, as well as some pathos, but it doesn't quite rise above anything more than a 'likeable' status. A poignant little family drama that has a nice feel for time and benefits from a strong performance by DeNiro as the heart and soul. It just doesn't offer anything original.
Mark Walker
Super Reviewer
Everybody's Fine Quotes
| | |
| --- | --- |
| Frank: | Painters paint walls...and dogs pee on them. |
| | |
| --- | --- |
| Hooker: | You wanna see my leg? |
| Frank: | Wanna see mine? |
| | |
| --- | --- |
| Frank: | If you would ask me I would have to say in all honesty, Everybody's fine. Everybody's fine. |