Door-to-Door Maniac
(1961)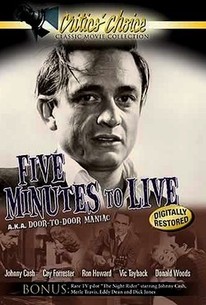 AUDIENCE SCORE
Critic Consensus: No consensus yet.
Door-to-Door Maniac Photos
Movie Info
Country star Johnny Cash stars in this tale of a kidnapper who takes a housewife hostage and demands a ransom from her wealthy husband. Also known as DOOR TO DOOR MANIAC, which is what the film was originally billed as in 1965.
Rating:
NR
Genre:
, , ,
Directed By:
Written By:
In Theaters:
On DVD:
Runtime:
Studio:
Sutton Pictures
Critic Reviews for Door-to-Door Maniac
All Critics (2) | Fresh (1) | Rotten (1)
It was incredible fun seeing a crazed Cash threatening to kill his hostage suburban housewife.

Ozus' World Movie Reviews
Crummy B-Movie, notable only for Johnny Cash's unusual screen acting debut.

Audience Reviews for Door-to-Door Maniac
I've never seen so much of nothing in my life. A group of gangsters go door-to-door killing whoever answers and stealing their kids. The town is obviously in disarray as the robbers pile up victims. Is there any hope for the town or will the robbers wipe them out? "You don't appreciate me." "What's there to appreciate?" Bill Karn, director of Dangerous Assignment, Gang Busters, Guns Don't Argue, and Ma Barker's Killer Brood, delivers Five Minutes to Live. The storyline for this picture isn't as good as it had the potential to be. The acting and soundtrack were both a little corny and disappointing. The cast includes Johnny Cash, Donald Woods, Cay Forester, and Ron Howard. "I need someone with experience." "I've been around." I DVR'd this picture off Turner Classic Movies (TCM) because it starred the legendary Johnny Cash. I had never heard of this movie but the plot sounded great. This is a classic drive-in movie with songs from the period, and Johnny Cash acting cool on the big screen; however, the content was minimal and disappointing. I'd skip this picture. "I'm wearing that horrible negligee you bought me." Grade: C-
Kevin Robbins
Okay, Get All Your Jokes Out of the Way Now To be perfectly honest, I had wanted today to be the second one in a row to have a tribute review, this time to an actual actor. However, I have already reviewed [i]The Green Mile[/i], [i]Daredevil[/i], and [i]Armageddon[/i]. The only three Michael Clarke Duncan movies which are available on Netflix Instant Play are two terrible-looking ones which each costar a different guy who was on [i]90210[/i] and [i]The Land Before Time XI[/i]. I respect both him and myself too much to remember him that way. However, I wasn't sure what I was actually in the mood for, so I did a bit of poking around on my various streaming options, having already decided that I wasn't interested in any of the stuff I had from the library. So I went poking around, and I discovered, while looking at the mediocre noir options available to me, that there was one starring Johnny Cash. It might not be a tribute, but it's interesting. Sort of. The story as it appears in various plot summaries is wrong. What actually happens is that Fred Dorella (Vic Tayback) has decided to rob a bank. He's done it before, and in twenty years of bank robbery, he's only done a year of prison time. He hires Johnny Cabot (Cash), who is also nicely cautious. The plan is that Dorella will go into the bank and inform vice president Ken Wilson (Donald Woods) that Johnny has Ken's wife, Nancy (Cay Forrester), hostage at home. If Ken does not authorize the cashing of a forged check for seventy-five thousand dollars, Johnny will kill Nancy. All this confirmed, of course, by phone calls back and forth. What Dorella does not find out in his examination of the Wilsons' lives is that Ken is planning to leave Nancy--that very day, in fact--for Doris Johnson (Midge Ware). However, that doesn't necessarily mean that Ken wants Nancy dead, and Dorella convinces him that not going along with what he wants will make Ken complicit in Nancy's murder. Now, I have to say, I'm not buying the happy ending. (Of course there's a happy ending; why wouldn't there be?) It's not that I think Johnny would necessarily get away with his plan, nor would Dorella. I'm even amused by the trick played by young Bobby Wilson (little Ronnie Howard!) to get away from Johnny himself. However, the ending is enough in touch with the Code that the Wilsons reconcile and go on vacation together. However, whatever problems caused Ken to leave Nancy in the first place are still unresolved. They're probably in part because of her obsessive social-climbing, but even if I thought that was everything, I don't think her social-climbing is going to be resolved by a hostage situation. Her personality is still the way it is, and things like that are seldom changed by a single event. So, you know, they should still see a therapist or something after they get back from their vacation, because they're going to have to work out their problems. Honestly, this is better than a lot of Elvis movies. It's not a great movie, but it's still better than it could have been. Johnny Cash did a pretty good job playing a crazy crazy killer. You really believe that he's willing to kill Nancy as soon as look at her, and it's not just the obligatory jokes about wanting to watch her die. Though, yes, I was making those jokes in my head as well. And it is a little odd that Johnny spends all his time waiting for the phone call either threatening to rape Nancy or else noodling around on his guitar. However, there isn't the crazy obsessive stopping every five minutes for a cheesy musical number that you got with your standard Elvis movie. Indeed, it wouldn't surprise mt to discover that this is closer to the sort of thing that Elvis himself wanted to make. You know, gritty. Serious. This was the same year that Elvis made [i]Blue Hawaii[/i], which I have not seen in many years, but it was light and fluffy. A standard Elvis movie, in other words. I watch a lot of forgettable noir. I always have, and I don't generally bother writing reviews of them. There has to be something really noteworthy, usually an interesting star. And say what you like, Johnny Cash was an interesting star. He does with the role what pretty much anyone could have, given that there's not much to it. I've seen a dozen variations of the character played by at least as many actors. There's always a place for the kill-crazy criminal--heck, I've seen this role played by Humphrey Bogart a time or two, and I'm not sure he could have done much more with the role than Johnny Cash did. It's a decent enough film, for what it's worth--worse than some and better than most, I'd say. Noir by definition is a bit of a forgettable genre, and most of the movies in it were made on the cheap without putting a lot of time or money into good actors or good scripts. Johnny Cash wasn't a bad actor, and he did what he could with the script. I guess that's all there is to say about it.
Edith Nelson
½
With all of the attention paid to Johnny Cash in the past couple of years, making him the country singer you can actually admit to liking without fear that less-open minded people will think you're a redneck, it's surprising that his acting debut, the 1961 feature [i]Five Minutes to Live[/i], hasn't gotten much attention. I could see ignoring it if it were a bad film, but it's actually a well-made, grim, taut crime drama that deserves wider acclaim. In fact, it' so good that my friend Sam named [url="http://www.5minutesonline.com/"]his grey market video site[/url] after it. Nope, instead, I find [i]Five Minutes to Live[/i] at a dollar store (!), paired with the Cash-starring TV movie [i]The Pride of Jesse Hallum[/i]. Not that I mind shelling out a mere four bits for a good movie, but, well, where's the justice? In [i]Five Minutes[/i], Cash stars as Johnny Cabot, a guitar-playing small-time hood who begins the film on the lam with his shady dame girlfriend. He meets up with bank robber Vic Tayback and the pair team up to rob a bank, hostage-style. Cabot will hold the wife of one of the bank execs captive in their home while Tayback talks the hubby into cashing a highly dubious check. Little do they know that the husband (Donald Woods) has plans of his own involving his mistress and an extended trip to Vegas that night. Tayback gives him the deal while Cash serenades the wife (Cay Forrester) with the title track to the film, makes her dress up in lingerie and throws her all over the house. Hubby is torn, and much of the film is an tense race against the clock as Cash and the wife wait anxiously to see if Tayback will actually make the call that saves her. It's a fairly simply plot, but director Bill Karn ([i]Ma Barker's Killer Brood[/i]) keeps things on edge, and the performances are good enough to make even the most corrupt characters (that is, most of them) seem compelling. Cash is fine, snarling his way through a sadistic part, and seems infinitely more at home than, say, Roy Orbison in [i]The Fastest Guitar Alive[/i]. Things get dark, though they never get too dark, even when a 7-year-old Ron Howard shows up as the couple's son and manages to find his way in the middle of a gunfight. The dollar store print of [i]Five Minutes[/i] looks okay--it's certainly more watchable that many buck films I've picked up. Still, I'd like to see a nice, remastered version of this with some extras. It's an enjoyably gritty crime thriller that ranks as better than many of the similarly low-budget indie heist films at the time, and would be worth checking out even if it weren't for Johnny Cash's acting debut. (It would still have Vic Tayback, for one, who was 31 at the time and looks 50.)
Paul Freitag
Door-to-Door Maniac Quotes
There are no approved quotes yet for this movie.