Alle Anderen (Everyone Else)
(2010)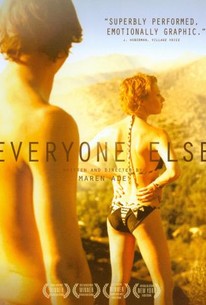 Alle Anderen (Everyone Else) Photos
Movie Info
In this edgy comedy drama from director Maren Ade, Chris (Lars Eidinger) and Gitti (Birgit Minichmayr) are a couple whose relationship has more than its share of ups and downs; she works as a publicist for a rock group whose career is going nowhere in particular, while he's an architect who hasn't been able to persuade anyone to build one of his designs just yet. While Gitti's career isn't much, it's enough to give her head-of-the-household status, to Chris' chagrin. Chris and Gitti are spending some time at his well-to-do family's summer home in Sardinia, and they seem to be getting along relatively well until they meet another couple vacationing nearby, Hans (Hans-Jochen Wagner) and Sana (Nicole Marischka). Hans is an architect like Chris, but unlike Chris his career is in high gear, while Sana is a well-respected artist. Hans isn't afraid to display his alpha-male status in their relationship, and Chris' attempts to emulate him add to the tension between him and Gitti, while she isn't sure what to make of a couple who seem so outwardly happy. Alle Anderen (aka Everyone Else) was an official selection at the 2009 Berlin International Film Festival.
News & Interviews for Alle Anderen (Everyone Else)
Critic Reviews for Alle Anderen (Everyone Else)
Audience Reviews for Alle Anderen (Everyone Else)
an excellent drama about the power struggle we know as romantic relationships in the brave new millenium
Stella Dallas
Super Reviewer
½
Once again the description of this film seems to be completely out of touch with reality. A young couple, on holiday in Sardinia, explores their feelings for each other and mainly tries to avoid interaction with the other couple. The two men share their profession; they are architects. Chris (Lars Eidinger) is less successful than the older Hans (Hans-Jochen Wagner), so there is some professional jealousy that comes into play. The scenery is idyllic, the acting adequate, and the story is slow moving. But still, for all that it kept this viewer engaged. It was interesting to see the two younger people test their relationship and to watch it mature, ever so slightly.
Mark Abell
Super Reviewer
½
While not having much in the way of a plot, the well-observed "Everyone Else" is not a love story. It is a relationship story. Gitti(Birgit Minichmayr) and Chris(Lars Eidinger) are on vacation at his mother's vacation home. Back home in Germany, they are not cohabitating yet(Gitti pops the question) and are still using condoms.(Better to be safe than sorry.) In fact, this might be the first time she is meeting some of his family and makes quite the impression on his sister's(Carina N. Wiese) family. Chris and Gitti are comfortable with each other, not having any more questions that need answering. The only time we learn anything is when they are in the company of other people, letting us know they are in Sardinia, for example.(I really do have to get out more.) Chris is an architect, just starting out, who has lost a competition at home but may have a chance to remodel a local villa. His style to plan things out to the last detail may make his dating a free spirited woman a little odd on the surface(and vice versa), but he has not yet figured out exactly what his tastes are, just as long they are not the same as his mother who collects little figurines.
Alle Anderen (Everyone Else) Quotes
There are no approved quotes yet for this movie.