Automaton Transfusion
(2006)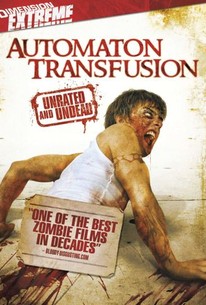 Automaton Transfusion Photos
Movie Info
An army experiment gone awry sets the stage for terror in this tale of a small town overtaken by ravenous flesh eaters. The undead have risen, and Main St. is packed with hordes of gut-munching copses that crave fresh meat. No one is safe from the armies of the damned, but perhaps there is hope as a group of local teens embark on a mission to dispatch with the dead and save mankind from complete annihilation. The gore flows in chunks and the flesh tears away like wallpaper in this apocalyptic shocker from writer/director/editor Steven C. Miller.
Critic Reviews for Automaton Transfusion
Audience Reviews for Automaton Transfusion
So automationism transfunctioner, which im sure is the name of one of the screamo bands on the soundtrack, is about four stupid teenagers forced into defending their stupid canadian school from zombies, i guess. the characters can be explained with one word each: virgin. black. bass-player. cheerleader. horror fans love this movie cause it has a scene where a girl gets a free abortion from a generous zombie. my favorite scene in the movie is the murder of the first emo kid who arrives home from school. "mom?" after one "mom" and no answer, he knows something is wrong. he takes off his messenger bag incase he finds that he has to run from something and he starts his three and a half minute walk up the creaky stairs. "mom, you up there?" he starts to become confused because like, why wouldn't mom say shit when he asked her if she was up there? "mommm??" oh no, she has blood dripping from her mouth. "mom, i told you to get a new dentist, he was only supposed to-- what the fuck, mom? holy shit! mom! no mom, its me! stoppp!" and she thrusts her fingernails into his "the dying will survive this vengeful death" t-shirt and all is well with the world because this kid would surely have grown up to be the next Jared Loughner and nobody wants that, so hurrahh! to zombies for thinning out the human herd. hey, they only eat democrats.
Coxxie Mild Sauce
Super Reviewer
This movie is awful. Really really bad. In fact, I do believe it is the worst zombie movie I have ever seen. I am so glad now that I didn't see it at the 2006 Zombie Walk. The title and the mercifully short running time are the only good things about this film. It's stiffly written, poorly acted, badly lit and shot on ugly film stock. The actors have no talent, the plot has no story, none of the characters are likable or even appropriately cast and the dialogue is robotic and unnatural. Even the gore effects, while displaying a certain level of inventiveness, are poorly executed and not for a second believable. Fuck, this movie is so bad, it's not even enjoyable. In fact, the only pleasure I got from watching this movie was envisioning the nasty things I was going to say about it in this review. What a waste. I had such high hopes for this, too.
Emily Armstrong
Super Reviewer
This was so terrible that I struggled to switch this off, and I admit that I HAD to quit about 35 minutes in.
_kelly .King
Super Reviewer
Automaton Transfusion Quotes
There are no approved quotes yet for this movie.