The Babysitters
(2008)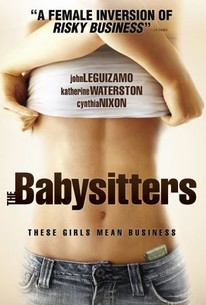 TOMATOMETER
AUDIENCE SCORE
Critic Consensus: Though built on an audacious and controversial premise, Babysitters teeters between exploitation and grossness due to uneven execution.
Movie Info
A bored suburban husband finds his affair with a high-school babysitter fast snowballing out of control in this black comedy from first-time screenwriter/director David Ross. Shirley (Katherine Waterston) is a brainy honors student who is always thinking about the future, and works part-time as a babysitter in order to save up for college. Among Shirley's regular charges are spirited youngsters Adam and Mikey, the offspring of respected father Michael (John Leguizamo) and his pretty wife, Gail (Cynthia Nixon). Shirley has always had an innocent crush on Michael, but one night after her regular shift, things take a serious turn when the pair sneaks a furtive kiss. Lately Michael has become noticeably depressed by the suburban routine, longing for the days before family responsibility weighed him down and his wife turned into the typical minivan-driving soccer mom. Shirley's kiss makes Michael feel alive again, and as a result he gives her a substantial tip that night. Before long, however, a fleeting kiss has turned into a full-fledged affair, with Michael and Shirley using the babysitting shifts as cover. When Michael's married friends catch wind of his extramarital exploits, they, too, express the want for a babysitter who is willing to earn a healthy tip. Recognizing the potential for profit in such a situation, Shirley soon assumes the role of teenage madam -- matching up her high-school friends with otherwise upstanding men who have grown bored with married life. Of course, Shirley isn't above skimming a bit of the profits for her college fund, but then again it's only a matter of time before their carefully crafted cover is blown. ~ Jason Buchanan, Rovi
Critic Reviews for The Babysitters
Audience Reviews for The Babysitters
Cute girls but Very disappointing. 3 stars
Bruce Bruce
Super Reviewer
Such a weird, dirty movie. There isn't really an ending to it; the movie just kind of....ends. Like the director said "okay guys, that's good enough. Let's just stop here." So many unanswered questions and plot holes. The characters are all pretty unlikable. Shirley's character evolved from a sweet innocent adolescent into a slutty greedy bitch towards the end. The whole movie didn't really have a point. A bunch of girls babysit kids then afterwards screw the fathers and get paid extra for it. There's no dilemma here. The movie focuses mainly on the affairs, and not on anything else. So we never know how the father's family react to the affair (if they even ever found out), we never know if Shirley made enough money for college or whatever, and we don't know if any of the father's ever got caught or not. It's just teenagers sexing up middle aged men. It's kind of disturbing and gross. It's a stupid movie really. Nothing happens. You walk away going "Whaaaaaat theeee fuuuuckkkk did I just watch?" Yeah, dumb movie for sure. I only watched it FTR because I was sick and I had a Netflix marathon. I watched every single movie on my queue. It was awesome....except for this movie. This movie was not awesome.
Quite an average film in the end, more of a drama. One for the trailer made it look a lot better category that's for sure.
The Babysitters Quotes
There are no approved quotes yet for this movie.