Bad Johnson
(2014)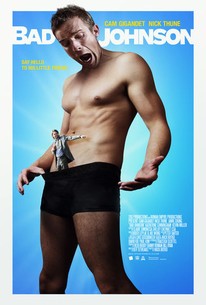 Movie Info
In BAD JOHNSON, directed by Huck Botko and written by Jeff Tetreault, Cam Gigandet (TWILIGHT, EASY A) plays Rich, a suave Chicago ladies' man who refuses to take personal responsibility for his inability to maintain a lasting relationship. After his constant infidelities alienate yet another girlfriend (Jamie Chung, THE HANGOVER PARTS II & III, SUCKER PUNCH), he wishes he could say goodbye to his 'little friend.' The next morning he awakes in horror to find that his wish has been granted and his penis has taken human form: A disgusting, selfish, oversexed jerk riotously portrayed by comedian Nick Thune (KNOCKED UP). Pitted against his alter ego, Rich must figure out how to rein in his penis, both literally and figuratively, in order to finally learn what separates the men from their boys. (c) Gravitas
Rating:
NR
Genre:
Directed By:
Written By:
In Theaters:
On DVD:
Runtime:
Studio:
News & Interviews for Bad Johnson
Critic Reviews for Bad Johnson
Audience Reviews for Bad Johnson
½
Honestly, I was looking forward to this. The plot made me laugh so hard! Man is this bad. The performances are fine, and the penis's performance was funny enough, it just didn't have good writing. Ultimately, this movie started to go downhill when I found out that the penis wasn't attached to the guy. The penis leaves the guy, and becomes a person...who also has a penis! I know, that's really stupid. This movie isn't funny, is really bad, and really stupid, but I would assume it had a pretty good budget, because technically speaking it was good. It was really just the writing that failed.
Andruw Futcher
Some comedies are hilarious, others are down right stupid, and then there is the story of Rich Johnson (Cam Gigandent). Like most men, Rich only thinks with his penis, and it often gets him into trouble, so one night, Rich makes a wish that his penis would leave him alone, and that's exactly what it does. Rich's penis detaches, and comes to life in the form of a walking, talking, human being. In the beginning, this film is an absolute riot, but how many penis jokes can you squeeze into a 90 minute film? Eventually Bad Johnson deteriorates into an eighth graders favorite movie, and becomes really tiresome, but in the insanity, something emerges, (besides Rich's penis), Cam Gigandent. I've seen Gigandent around, and he's usually playing the good looking guy, who's roles really doesn't have much substance, until now. As is the case with most actors, it takes time to find their niche, but Gigandent's may very well be comedy. He was the level headed one, who really blurts out the hysterical line when it is sorely needed, and he was far better than Nick Thune, the man who literally was playing a penis. Bad Johnson isn't the kind of film you'll want to see twice, the jokes are old before the film is even over, but if you're looking for a few good, cheap laughs, this film is absolutely perfect.
Todd Smith
Super Reviewer
I heard a lot of bad reviews for this movie before I got around to seeing it. I don't really know why people were so pissed off at it to be honest. It wasn't horrible, it does seem like the characters don't actually learn a lesson and a lot of stuff comes outta nowhere, but I have seen worse.
Sarah Helwig
Bad Johnson Quotes
There are no approved quotes yet for this movie.