The Big Knife
(1955)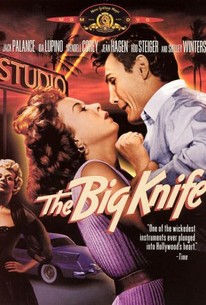 Movie Info
In this film version of Clifford Odets' play, Jack Palance plays big-time movie star Charlie Castle, who refuses to sign a binding, $3000 per week contract with mogul Rod Steiger. Steiger tries to blackmail Palance into re-signing by revealing that Palance was behind the wheel during a hit-and-run accident.
Audience Reviews for The Big Knife
A pretty good Hollywood story movie, but I saw it on TV and didn't get to watch the whole thing, so I can't say much about it. I would like to see the end.
Jack Palance is just awesome in this role of an actor forced to decide between crap movies and supporting his well off celebrity life. This film should be viewed by any drama lover interested in fifties Hollywood. Black and white. Hollywood superstar Charlie Castle (Palance) has it all except a way out. When he tries to leave show business, his tyrannical studio boss Stanley Hoff (Steiger) blackmails him with a lethal, covered-up secret that could land him in jail. A loose-lipped starlet (Winters) also knows too much, and when she starts talking, Hoff plans murder. Now Charlie is more cornered than everon the brink of losing his wealth, his power and his soul. Cast Jack Palance Ida Lupino Ilka Chase Wendell Corey Jean Hagen Rod Steiger Shelley Winters Crew Director: Robert Aldrich Producer: Robert Aldrich Composer: Frank De Vol Cinematographer: Ernest Laszlo Editor: Michael Luciano Screenplay: James Poe Story Adapted by: James Poe Based on a Work by: Clifford Odet Sensitive Palance (for a change) wants to do the right thing by his estranged wife and everyone else, but he gets no honest support by his agent or anyone else. A tragic story.
monsieur rick
This movie starts off with a lot of promise: a dynamite, evocative Saul Bass credit sequence and a terrific cast of Jack Palance, Ida Lupino, Rod Steiger, Shelley Winters, Everett Sloane and Wendell Corey. Unfortunately, it doesn't really make good on that promise until the third act. The rest of it is a lot of stage-bound (98% of the movie takes place in one room) exposition and overblown melodrama. Although a scathing indictment of the film industry, it missteps in trying to get us to care too much about an actor's career. The script, based on an Odets play, has some excellent lines, though, and the performances are all pretty good. It would just be much better if the first hour or so were greatly condensed.
Martin Teller
The Big Knife Quotes
There are no approved quotes yet for this movie.
Discussion Forum
Discuss The Big Knife on our Movie forum!