Children of the Corn 4: The Gathering
(1996)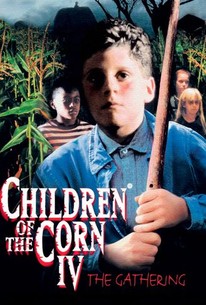 AUDIENCE SCORE
Critic Consensus: No consensus yet.
Children of the Corn 4: The Gathering Photos
Movie Info
This fourth installment in the horror saga bears little resemblance to Stephen King's original tale. Unlike the third episode, which was set in Chicago, this one is again set in a small Nebraska town where a medical student notices that the local kids are all ears when it comes to the words of a mysterious preacher who seems to encourage them to murderously stalk the adults.
Critic Reviews for Children of the Corn 4: The Gathering
Audience Reviews for Children of the Corn 4: The Gathering
Children of the Corn 4: The Gathering continues the gore factor established in the third film, and brings a whole new level of horrifying carnage to the screen. This fourth entry is a fun, well conceived film that gorehounds will mostly enjoy. There are effective horror elements at work here to create a pleasant treat for Children of the Corn fans. The cast is comprised of Naomi Watts and Karen Black, to name a few. The film has an interesting story, and plenty of violence and gore to satisfy the most diehard horror fan. Sure, the film could be better, but considering that this is a fourth entry, the film is pretty good. Director Greg Spence delivers a horror film that is lots of fun, entertaining and never boring. Sure the film has its flaws, but for what it is, it's a good fourth film in the Children of the Corn series, and it manages to be a good little horror gem. Thought at times the film can be a tad predictable, this entry is worth watching and is lots of fun for horror fans, and it definitely delivers a fun, entertaining horror viewing experience. As far as sequels are concerned, this one has enough thrills going for it to make it an interesting watch. Children of the Corn fans won't be disappointed and though it lacks in some place, it more than makes up for it with the gore factor, which in the end is what makes this film a must see for horror fans.
Surprisingly not too bad. It's the goriest of the series with nice gruesome kills and the plot is marginally different with not a grain of corn in sight. Interestingly it stars Naomi Watts in the lead already showing signs that she was destined for better things.
Children of the Corn 4: The Gathering Quotes
There are no approved quotes yet for this movie.