Chop Shop
(2008)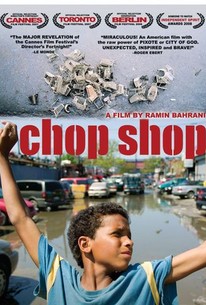 TOMATOMETER
AUDIENCE SCORE
Critic Consensus: Filled with excellent performances, Ramin Bahrani's deft sophomore effort is a heartfelt, hopeful neorealist look at the people who live in the gritty underbelly of New York City.
Movie Info
A street-smart orphan determined to make a better life for himself and his sixteen year-old sister spends his days working in an auto body repair shop in director Ramin Bahrani's gritty coming of age drama. Alejandro may be a young boy on the verge of adolescence, but his tough persona and driving ambition give the impression of a man twice his age. As with many street kids Alejandro has been forced to mature before his time. Now, in a disheveled junkyard on the outer edge of Queens, New York, one boy will learn what it means to become a man as he sets out to build a brighter future for the only family he knows. ~ Jason Buchanan, Rovi
News & Interviews for Chop Shop
Critic Reviews for Chop Shop
Audience Reviews for Chop Shop
½
Chop Shop has that gritty, indie feel to it... probably because it IS an indie film. Written and directed by Ramin Bahrani who seems to have a great eye for capturing various slices of that great social experiment that is NYC. His prior works include Man Push Cart, the story of an immigrant who makes his way by being a street vendor. Here Ramin trains his camera microscope cinema verite' style on the industrial area that abuts the old Shea Stadium. Full of small wherehouse spaces with roll up doors that are home to row after row of car repair shops; all dealing in cheap parts which may or may not have come into their inventory by suspicious means. At the core of the film is Alejandro (Alejandro Polanco), a young ethnic hustler who "procures parts", and works the street, ushering prospective buyers towards his bosses' shop. On the side he is learning the craft of auto repair, especially painting and bodywork. His boss allows him to live in a small loft room at the back of the shop, and once he has secured the room, he makes contact with his semi-homeless older sister and invites her to share the room. We make discoveries about the sister, and see that family is very important to Ale. It is his dream to restore an old Roach Coach so his sister can cook and make a decent living instead of being the fetch it girl for another coach owner. The acting throughout seems very natural and there is a certain gritty, real feeling to the action, as if the camera was simply allowed to follow the characters around and record the day-to-day happenings. This is both a plus and a minus, as it gives the aforementioned realism but also allows for some editing issues. Still, the net result is satisfying and I felt invested in the character of Ale who keeps on keeping on in spite of a broken dream. When the film abruptly ends with no resolution you get the feeling that the intention was to let the viewer have a peek into the lifestyle around the chop shop before you hear the clanking of the metal door coming down and keeping you on the outside. Welcome to third world America.
paul sandberg
Super Reviewer
½
I liked it, but didn't love it. It doesn't even really feel like a movie; it's more like you are getting a glimpse into a child's poverty stricken life. It doesn't feel like Alejandro Polanco is acting, it feels like this is his struggling life. Has good camera work, good performances and good direction, it just wasn't anything that I was expecting.
Cynthia S.
Super Reviewer
This is a great slice of life film that I really enjoyed. Simple to the point where it might turn some people off of the film, I have always thought this style of filmmaking adds a true ripple of suspense. Most everyone who watches films like this one keeps waiting for the worst to happen (as if being an orphan living over a garage isn't horrible enough), but what is surprising about this film is the surprisingly touching moments that happen in what are already dire situations. The cast of non actors are great. Alejandro Polanco (who plays the lead little boy in the film) is fantastic and has a great natural sense about him without it seeming cheesy. There are some times when you are reminded that they are not professional actors, but it really doesn't matter because I found myself being so wrapped up in the story. Well written and directed film by Ramin Bahrani.
Chop Shop Quotes
There are no approved quotes yet for this movie.