Cross Creek
(1983)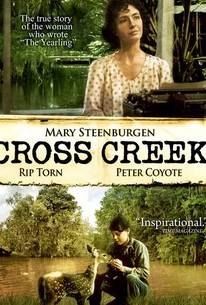 Movie Info
Director Martin Ritt's bucolic rural environments of Norma Rae, Conrack, and Sounder, are re-visited once again in Cross Creek, based on author Marjorie Kinnan Rawlings' memoirs of her times on a remote Florida bayou. Mary Steenburgen plays Rawlings, author of The Yearling, who, in 1928, makes the abrupt decision to leave her husband and move to an isolated orange grove to concentrate on her writing. Rawlings buys a run-down house covered with cobwebs that she restores with quick dispatch. In these desolate surroundings, Rawlings pauses in her housecleaning to listen reflectively to the otherworldly noises of the swamp. But suddenly out of this loneliness, people emerge. There is Geechee (Alfre Woodard), Rawlings' devoted servant; Marsh Turner (Rip Torn), a liquor-guzzling swamp rat; Floyd Turner (Cary Guffey), a cute harmonica-playing boy; and Ellie Turner (Dana Hill), a little girl whose fawn becomes the basis of Rawlings' Yearling book. Rawlings becomes involved with Norton Baskin (Peter Coyote), the owner of the local hotel, and, as she settles into life on the bayou and her friendship with Norton and Geechee, she is inspired to begin writing.
Critic Reviews for Cross Creek
Audience Reviews for Cross Creek
Cross Creek is a simple but intriguing and inspirational tale of a woman's journey to self discovery with two excellent supporting peroformances (torn and woodard), enchanting visuals and playful score
Scott Hoffman
A nice drama with great performances from Mary Steenburgen, Rip Torn, Alfre Woodward, and Dana Hill. Great costumes, score, cinematography, and sound too
Kyle Bailey
Cross Creek, based on the memoirs of The Yearling author Marjorie Kinnan Rawlings, offers a sanitized vision of her early struggle to publish a novel and the Florida backwoods which inspired her prose. A stellar performance by Rip Torn just about keeps the saccharine level at bay.
Lee Mayo
Cross Creek Quotes
There are no approved quotes yet for this movie.
Discussion Forum
Discuss Cross Creek on our Movie forum!