A Date with Judy
(1948)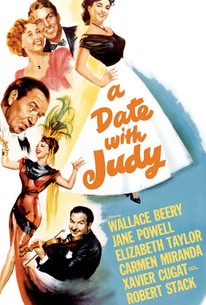 Movie Info
Jane Powell and Elizabeth Taylor headline this youthful musical comedy in which they play two teenage best friends who team up to help Jane's father Wallace Beery after they suspect him of having an affair with Brazilian fireball Carmen Miranda. Actually, the portly Beery is really only taking dance lessons from the lithe, lively Miranda so he can surprise his beloved wife. When not meddling in her father's affairs, Powell and Taylor find their friendship tested after they fall for the same cute guy. Songs include: "Cuanto la Gusta," "Strictly on the Corny Side," "Judaline," "Temptation," and "Mulligatawny."
Critic Reviews for A Date with Judy
Audience Reviews for A Date with Judy
MGM's all-star, Technicolor adaptation of a popular 1940's radio show; a big hit in 1948, it now resembles a two-hour long sitcom with songs. Introduced several hit tunes including "Cuanto La Gusta," and "It's a Most Unusual Day."
Michael Troudt
Jane Powell sings like an Angel, Elizabeth Taylor at the Height of her Beauty, Carmen Miranda & Xavier Cugat, Ohhhhh, Be Still My Heart!
Marilee Aschwanden
I enjoyed this more than I was expecting. Just seeing Wallace Beery rumba with Carmen Miranda was worth watching the film for! Great score, nicely done songs. The costume design is good. The very young Elizabeth Taylor is clearly budding into one of the greatest beauties to grace the screen. Solid support from Selena Royle and Leon Ames, It doesn?t rank among the greatest musicals ever made, but it is light, entertaining and fun.
James Higgins
A Date with Judy Quotes
There are no approved quotes yet for this movie.
Discussion Forum
Discuss A Date with Judy on our Movie forum!