Diary of a Lost Girl (Tagebuch einer Verlorenen)
(1929)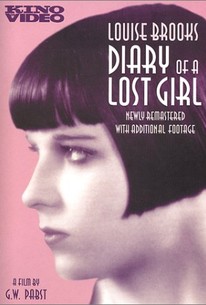 Diary of a Lost Girl (Tagebuch einer Verlorenen) Photos
Movie Info
German filmmaker G.W. Pabst and Hollywood expatriate Louise Brooks re-team after the success of Pandora's Box for the silent film Diary of a Lost Girl. On the day of her confirmation, innocent young Thymiane Henning (Brooks) is given a lockable diary as a present. She's distraught because the housekeeper Elisabeth (Sibylle Schmitz) is leaving under curious circumstances and turns up presumably dead. Her duties are taken over by the conniving Meta (Franziska Kinz), who accepts the advances of Thymiane's pharmacist father (Josef Ravensky). Trying to understand Elisabeth's fate, Thymiane agrees to meet her father's assistant, Meinert (Fritz Rasp). She passes out, he carries her up to her room, and by the next scene she has borne a child by him. Meta snoops in Thymiane's diary and finds out it was Meinert's baby, so she suggests they get married. Thymiane refuses, so they throw her in a creepy reformatory for fallen women and leave her baby with a midwife. While in the reformatory, she meets Erika (Edith Meinhard), with whom she eventually escapes. To escape from poverty and homelessness, the girls then become nominal prostitutes in a brothel and are "sexually liberated." ~ Andrea LeVasseur, Rovi
Critic Reviews for Diary of a Lost Girl (Tagebuch einer Verlorenen)
Audience Reviews for Diary of a Lost Girl (Tagebuch einer Verlorenen)
½
This is one of the films discussed in the documentary From Caligari to Hitler set in Weimar-era Germany prior to WWII. Weimar Germany itself is a cautionary tale against a morally righteous society with dark hidden recesses of inhumanity. This is the second collaboration between Austrian G.W. Pabst and American dancer Louise Brooks. This silent has a mature, complex plot with recognizable human drama. The plot concerns things in a culture's underbelly that 40+ years later would be the focus of countless exploitation flicks. The young innocent Thymiane (Brooks) is taken advantage of, has a baby out of wedlock, is forced to give the baby for adoption, is kept prisoner at a cruel militaristic reformatory, later falls into prostitution, becomes disowned by her family (who claim to be much more upstanding citizens), and yet when she is given the opportunity to advance herself with large sums of money, she is able to do the decent thing and help those who have less than her. The prolific Fritz Rasp, who also often worked with Fritz Lang, will make your skin crawl as the creep who takes Thymiane's innocence. Edith Meinhard as Erika, a girl Thymiane befriends in the reformatory and later introduces her to the life of a call girl, is memorable. The woman and her assistant who run the reformatory with iron fists are endlessly copied in future tales of bad girls being forced back on the straight and narrow. André Roanne as Thymiane's friend, a young Count with no real career skills who is cut off from his family's money, is very modern. This is the first film I've seen with Louise Brooks and she did not disappoint. I read about Brooks, Clara Bow, and Colleen Moore recently in the book Flapper: A Madcap Story of Sex, Style, Celebrity, and the Women Who Made America Modern by Joshua Zeitz. Brooks' character faints from excessive emotions a little too often, but this American flapper in Germany with that iconic hairdo of the 20s was a natural in the role. "A little more love and no-one would be lost in this world."
Byron Brubaker
Super Reviewer
This is the only silent movie I have ever sat through. I didn't think I would enjoy it, but I did. Louise Brooks was compelling as an actress and the story was a little raunchier than I would have expected from that era also.
Nicki Marie
Super Reviewer
First of all, it's strange that Flixster says this movie is from 1981, it's really from 1929! Anyway, I highly recommend this movie, it's a has a great story, it's not dated at all, and it's very engaging. I really liked this movie.
Diary of a Lost Girl (Tagebuch einer Verlorenen) Quotes
There are no approved quotes yet for this movie.