The Electric Horseman
(1979)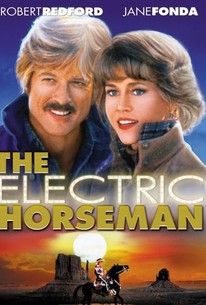 The Electric Horseman Videos
The Electric Horseman Photos
Movie Info
A boozy ex-rodeo champ sells out and becomes a glitzy breakfast cereal pitchman. He hates it, and in his sober moments wonders what happened to his formerly charmed life. The one bright spot in Sonny Steele's existence comes during public appearances (where he is decked out like a Christmas tree in electric lights) when he gets to ride the magnificent stallion Rising Star. The trouble begins when Steele discovers that the ad men have been shooting Rising Star full of tranquilizers so the spirited beast will behave during shows. Perhaps seeing a parallel in his own life, Steele snaps and decides to kidnap the horse and high-tail it to the desert. As the stallion is extremely valuable, a massive horsehunt is launched. No one cares a whit for Sonny and the orders are to "shoot to kill" if need be. The only one who succeeds in finding him is a plucky female reporter. She sticks to him like glue and makes sure the country learns of Sonny and Rising Star's plight. Along the way, the cowboy and the reporter also find time to fall in love.
Rating:
PG
Genre:
, ,
Directed By:
Written By:
In Theaters:
On DVD:
Runtime:
Studio:
MCA Universal Home Video
Critic Reviews for The Electric Horseman
Audience Reviews for The Electric Horseman
½
***Due to the recent RT changes that have basically ruined my past reviews, I am mostly only giving a rating rather than a full review.***
Steve Smith
½
Redford and Fonda succeed in showing corporate America, with all their power, lose a battle for a 12 million dollar horse. Redford, long tired of pitching cereal food at promotional events, decides he and this horse, Rising Star, have had enough. [img]http://t0.gstatic.com/images?q=tbn:ANd9GcQSJqdtZE05A2tqtZcc76IQ7TU3VPhxhYK7MmEM_aNoThDsAopJ[/img] But opposites attract, or so it's claimed, so we also see a unexpected romance plot appear. I suppose it had to happen with a man and a woman sleeping in the wide open wilderness and together long enough that some sparks have to fly. [img]http://t2.gstatic.com/images?q=tbn:ANd9GcRq2V28_WFCFnrUGMC84ptlZUfaqA-4L2Ym1IQfbQ3EkWjXLZqDhA[/img] SEE the trailer here: www.youtube.com/watch?v=yj4g1c9tgTI The Electric Horseman is a 1979 adventure and romance feature film starring Robert Redford and Jane Fonda and directed by Sydney Pollack. It was the third time Redford and Fonda starred together in a feature film, having previously teamed on The Chase (1966) and Barefoot in the Park (1967). [img]http://t2.gstatic.com/images?q=tbn:ANd9GcRX9g5nXzVr4TQ5MqbxPQlgI6OUGOwV8LtGk0-tRBnUyy9rVrKZlg[/img] The real Horseman shown here SEE the film here: http://www.youtube.com/watch?v=GBXG_9gQqz8 Borders on "lame" comedy more than a few times, but the true honesty of the character Redford plays makes up for all of it. City gal Jane Fonda becomes a convert to Redford's plain ways over time. A fine film about values contrasted against Las Vegas greed. [img]http://t0.gstatic.com/images?q=tbn:ANd9GcQdtm60xlcvyieUpLt-1UZ5F9tVrCmNKzdjpbVNXmYKkasVZ5gzfw[/img] Willie Nelson's debut film NOTES: 1 The Electric Horseman is noted as being the debut acting performance of long-time country and western singer Willie Nelson, who plays the role of Wendell Hickson. 2 According to Pollack, Nelson improvised most of his dialogue in the film. In addition to co-starring, Nelson contributed significantly to the film's soundtrack as well, singing five songs including "My Heroes Have Always Been Cowboys", "Midnight Rider," "Mamas Don't Let Your Babies Grow Up to Be Cowboys," "So You Think You're a Cowboy" and "Hands on the Wheel." [img]http://t1.gstatic.com/images?q=tbn:ANd9GcSbjc_Gba6SZiZaECDY6BXkOKSTajXcxVa4Qpl6bY6qNXL9EG-j[/img] All wired up, the Electric Horseman REVIEWERS: 1 100% In my top 10 of all time great romances. Redford and Fonda at their best. AND it holds up to time. If you like romantic comedires with a bit of intell... 2 80% A fun movie. Starring Robert Redford Jane Fonda Valerie Perrine John Saxon Willie Nelson [img]http://t0.gstatic.com/images?q=tbn:ANd9GcQexCM3AYu4YlfXXbTzWeeNcKEuizMgtePWp_t2GjpKg26jozaC[/img] The deed is done Directed by Sydney Pollack Produced by Ray Stark Written by Shelly Burton Paul Gaer Robert Garland (screenplay) [img]http://upload.wikimedia.org/wikipedia/en/thumb/0/04/The_Electric_Horseman_film_poster.jpg/220px-The_Electric_Horseman_film_poster.jpg[/img]
monsieur rick
I didn't get to see the whole movie, but from what I saw it's very boring. I will see it again some day to give it another chance, though.
The Electric Horseman Quotes
There are no approved quotes yet for this movie.