The Big Boss (Tang shan da xiong)
(1972)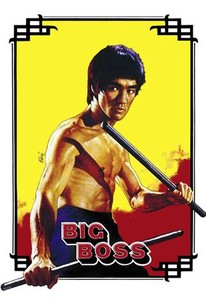 Movie Info
Kung Fu-meister Bruce Lee made his feature film debut in this Hong Kong-made martial-arts actioner that chronicles the attempts of a young student to honor the vow made to his master that he will not use his deadly hands to harm others. The fighter does his best and goes to work at a seemingly peaceful ice factory. Unfortunately, he must break his promise after his master is murdered and he discovers that his employer uses the factory as a front for a drug-smuggling operation. The story was originally titled Big Boss.
Critic Reviews for The Big Boss (Tang shan da xiong)
Audience Reviews for The Big Boss (Tang shan da xiong)
This is my second favourite Bruce Lee's movies as his first starring role in this martial arts-action film and he was a very charming actor whose presence filled the screen and owned it completely. That statement is proved here as we see him not as a killing machine, but as a common man who just wants to live peacefully, giving us many scenes of Cheng Chao-an (played by Lee) enjoying his new found family and struggling with his own vices. Lee's performance is very natural although one could say that he was basically playing himself. The rest of the cast ranges from average to OK, with James Tien, Quin Lee and Malalene being the best among them. The action is pretty good and I like the fight scenes of Bruce Lee against the evil Big Boss's factory workers at the ice factory - superb!
Dean McKenna
Super Reviewer
My personal favourite Bruce Lee movie. Violent and vicious and very entertaining with a memorable performance by the Kung-Fu legend himself who restrains from violent confrontation for the first half hour due to a promise made to his mother, but when intimidation gets too much Bruce unleashes a whirlwind of kicks, punches and bladed weapons on his foes.
Throughout this film you see a constrained Bruce Lee. Lo Wei is deliberately holding him back in order to introduce him to audiences and to save the best of his fighting for the second film. What we see here is a humane Bruce Lee who has feelings, a sense of humour, enjoys sex and is in control of his temper. He strikes up a good friendship with Shu Sheng who life is eventually claimed by the antagonists. When Bruce witnesses the mistreatment of his family in the workplace, he still holds back. Until...they break his necklace. At that moment, he explodes into action with centrifugal force, picking off each opponent with pin-point accurate kicks. It is a work of art that is akin to 'Samson and Delilah'.
Cassandra Maples
Super Reviewer
The Big Boss (Tang shan da xiong) Quotes
There are no approved quotes yet for this movie.