FM
(1978)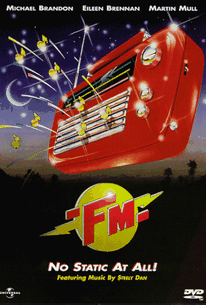 Movie Info
When the owners of a Los Angeles radio station become more interested in profits than people, its disgruntled disc jockeys stage a protest and broadcast their own program. This comedy, which debuted Martin Mull as a the crazy DJ Eric, features a good selection of rock music and concert footage.
Rating:
PG
Genre:
,
Directed By:
Written By:
On DVD:
Runtime:
Studio:
MCA Universal Home Video
Audience Reviews for FM
70's time capsule is chock full of fantastic music, the soundtrack is justly famous, and excellent actors. The basic story line is David vs. Goliath but is entertainingly played and provides a look at what FM radio use to be. Good concert footage of Jimmy Buffet and Linda Ronstadt give a sense of what live concerts were at the time. Of the performers while all are good a few stand out. Martin Mull is a hoot as the egotistical and somewhat child like disc jockey Eric Swan and the great Eileen Brennan makes a lot out of her small part as the world weary DJ Mother. No one did world weary as well as Eileen Brennan. Not a great picture but for any music lover unmissable.
FM is the tale of two movies. 1st half is brilliant. I worked in major market radio; this film captures that world very well. It's shot beautifully, and really depicts the world of 1960s/70s/80s radio with nuances and insight. I love that about "FM." Martin Mull and Eileen Brennen are brilliant. Linda Ronstadt, wonderful. OK, now the 2nd half of the movie. Ummmm..... it goes into this odd schitck that seems designed for 8-year-olds. It strangely falls far, to the level of a bad 70s sitcom. The 1st half of it is so good, I bought the DVD and still enjoy watching it from time to time. The good parts are SO good, it's definitely worth seeing.
Lloyd Clark
I really would love to see this movie come out on Blu-ray. The movie is funny, not great, but enjoyable, but the soundtrack is phenomenal and would sound amazing in glorious, remastered TruHD 7.1 This is the movie that launched WKRP and is a perfect time capsule for the late 1970s FM radio culture, captured right at the moment before corporate America moved in and commercialized and thereby ruined the whole scene. Captures the zeitgeist in a way no movie had before or since. It is a real shame to be unable to even buy the DVD of it.
Frank Brass
Discussion Forum
Discuss FM on our Movie forum!