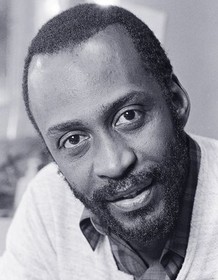 Cleavon Little
Highest Rated: 88% Blazing Saddles (1974)
Lowest Rated: 10% Once Bitten (1985)
Birthday: Jun 1, 1939
Birthplace: Chickasha, Oklahoma, USA
Stage-trained African-American comic actor who garnered international acclaim for his portrayal of Black Bart, the unlikely sheriff, in Mel Brooks' Western spoof "Blazing Saddles" (1974). Little's big break came with a turn in Peter Yates' "John and Mary" (1969), alongside Dustin Hoffman and Mia Farrow. In 1970, he starred on stage in Ossie Davis' musical "Purlie," for which he won a Tony and a Drama Desk Award, and appeared in Davis' landmark black independent film, "Cotton Comes to Harlem." Throughout his career, Little displayed a manic, live wire comic energy and a flamboyant, streetwise style of line delivery.
Photos
BLAZING SADDLES, Cleavon Little, 1974
BLAZING SADDLES, Cleavon Little, 1974
THE GIG, Cleavon Little, 1985, (c)Castle Hill Productions
BLAZING SADDLES, right: Cleavon Little, 1974.
BLAZING SADDLES, from left: Cleavon Little, Charles McGregor, 1974
GREASED LIGHTNING, Cleavon Little, Richard Pryor, 1977
VANISHING POINT, Cleavon Little, 1971
FM, Cassie Yates, Cleavon Little, Martin Mull, Alex Carras, Eileen Brennan, Michael Brandon, 1978. (c) Universal Pictures.
BLAZING SADDLES, Cleavon Little, 1974.
BLAZING SADDLES, David Huddleston, Cleavon Little, 1974
GREASED LIGHTNING, Cleavon Little, Richie Havens, Richard Pryor, 1977
BLAZING SADDLES, Gene Wilder, Cleavon Little, 1974
BLAZING SADDLES, Robert Ridgely, Cleavon Little, 1974
BLAZING SADDLES, Gene Wilder, Cleavon Little, 1974
BLAZING SADDLES, Cleavon Little, Mel Brooks, Harvey Korman, 1974
BLAZING SADDLES, Cleavon Little, 1974
ONCE BITTEN, Cleavon Little, Lauren Hutton, 1985. ©Samuel Goldwyn Films
BLAZING SADDLES, David Huddleston, Cleavon Little, John Hillerman, Liam Dunn, 1974
ONCE BITTEN, Cleavon Little, Lauren Hutton, 1985. ©Samuel Goldwyn Films
BLAZING SADDLES, Cleavon Little, Gene Wilder, 1974
Filmography
Movies
TV
Credit

82%

98%

Tales From the Crypt
Unknown (Character)

1992

No Score Yet

No Score Yet

True Colors
Ronald Freeman (Character)

1991-1992

No Score Yet

78%

MacGyver
Unknown (Guest Star)

1989

1991

No Score Yet

No Score Yet

227
Unknown (Guest Star)

1989

No Score Yet

No Score Yet

Dear John
Unknown (Guest Star)

1989

No Score Yet

83%

ALF
George Foley (Guest Star)

1987

No Score Yet

No Score Yet

The Fall Guy
Unknown (Guest Star)

1983

No Score Yet

No Score Yet

Simon & Simon
Bookkeeper Jared Swope (Guest Star)

1983

No Score Yet

No Score Yet

Fantasy Island
Unknown (Guest Star)

1981

No Score Yet

No Score Yet

The Rockford Files
Billy Merrihew (Guest Star)

1977

No Score Yet

No Score Yet

The Rookies
Unknown (Guest Star)

1975

No Score Yet

No Score Yet

The Waltons
Unknown (Guest Star)

1975

No Score Yet

No Score Yet

Mod Squad
Bolo (Guest Star)

1972

No Score Yet

88%

All in the Family
Unknown (Guest Star)

1971

No Score Yet

No Score Yet

The Felony Squad
Jesse Hawkins (Guest Star)

1968