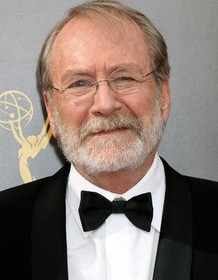 Martin Mull
Highest Rated: 79% My Bodyguard (1980)
Lowest Rated: 10% Killers (2010)
Birthday: Aug 18, 1943
Birthplace: Chicago, Illinois, USA
Born in Chicago in 1943, Martin Mull moved to Connecticut during high school, then attended the Rhode Island School of Design, graduating with a MFA in painting. While in school, Mull began playing guitar in a band and writing his own songs. As the folk music scene began to gain in popularity, Mull found himself playing solo gigs and his songs and banter began to take on a comedic tone. Between 1972 and 1975, Mull released five albums of comic infused folk music. After meeting with creator Norman Lear about a writing job on the show "Mary Hartman, Mary Hartman" (Syndicated, 1976-77), Mull was instead offered a part on the show, playing the twins Garth and Barth Gimble. After Garth was fatally impaled on an aluminum Christmas tree, Barth continued on the series' "Fernwood 2 Night" (Syndicated, 1977) and "America 2 Night" (Syndicated, 1978). Both shows satirized talk shows and began the long collaboration between Mull and Fred Willard. In 1979, Mull's comedy album "Sex and Violins" was nominated for the Grammy Award for Best Comedy Album. Mull continued to make a mark for himself on screen, playing memorable supporting roles in a multitude of films and series, including "Taxi" (ABC, 1978-1982), "Mr. Mom" (1983), and most notably in "Roseanne" (ABC, 1988-1997, 2018) playing her gay boss with Willard playing his domestic partner. His remarkable professional longevity extended through the 2000s and into the 2010s, continuing to put his unique comic spin on a number of roles in shows like "Two and a Half Men" (CBS, 2003-2015) and "Veep" (HBO, 2012-), as well as films like "A Futile and Stupid Gesture" (Netflix, 2018) about the life of Doug Kenney, who brought the National Lampoon to the national spotlight and was one of the first writers on "Saturday Night Live" (NBC, 1975-). In 2018, it was announced that he would be a series regular on the new comedy "The Cool Kids" (Fox, 2018-).
Photos
THE BOSS' WIFE, Christopher Plummer (center), Martin Mull (r.), 1986, (c)TriStar Pictures
Dads, Alexis Calcaterra (L), Martin Mull (R), 'Funny Girl', Season 1, Ep. #4, 10/08/2013, ©FOX
FM, Cassie Yates, Cleavon Little, Martin Mull, Alex Carras, Eileen Brennan, Michael Brandon, 1978. (c) Universal Pictures.
MR. WRITE, Martin Mull, Paul Reiser, 1994, (c)Shapiro-Glickenhaus
CLUE, Martin Mull, 1985, (c)Paramount
Dads, from left: Peter Riegert, Seth Green, Giovanni Ribisi, Tonita Castro, Martin Mull, 'The Glitch That Stole Christmas', Season 1, Ep. #11, 12/03/2013, ©FOX
ATTENTION SHOPPERS, Martin Mull, 2000, (c) MGM
CLUE, Martin Mull, Lee Ving, Christopher Lloyd, Colleen Camp, 1985, (c)Paramount
SERIAL, Martin Mull, 1980, (c) Paramount /
SERIAL, Martin Mull (right), 1980, (c) Paramount
Dads, Martin Mull (L), Vanessa Lachey (R), 'Foul Play', Season 1, Ep. #7, 11/05/2013, ©FOX
RENTED LIPS, Martin Mull, Jennifer Tilly, 1988.
THE BOSS' WIFE, Martin Mull, 1986, (c)TriStar Pictures
SERIAL, Christopher Lee (with helmet), Martin Mull, 1980, (c) Paramount
CLUE, Lee Ving, Madeline Kahn, Lesley Ann Warren, Martin Mull, 1985, (c)Paramount
MY BODYGUARD, Martin Mull, Chris Makepeace, Ruth Gordon, 1980, TM and Copyright © 20th Century Fox Film Corp. All rights reserved.
CLUE, Madeline Kahn, Martin Mull, Lesley Ann Warren, 1985, (c)Paramount
Dads, Giovanni Ribisi (L), Martin Mull (R), 'Bully Gene', Season 1, Ep. #14, 01/21/2014, ©FOX
Dads, Giovanni Ribisi (L), Martin Mull (R), 'Eli Nightingale', Season 1, Ep. #13, 01/14/2014, ©FOX
Dads, from left: Giovanni Ribisi, Seth Green, Martin Mull, Brenda Song, Peter Riegert, 'Eli Nightingale', Season 1, Ep. #13, 01/14/2014, ©FOX