A Futile and Stupid Gesture
(2017)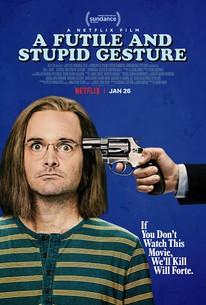 A Futile and Stupid Gesture Videos
A Futile and Stupid Gesture Photos
Movie Info
The rise and fall of humor magazine National Lampoon and its co-founder Doug Kenney (played by Will Forte) is recounted in this biopic directed by David Wain. Domhnall Gleeson, Joel McHale, Seth Green and Thomas Lennon co-star in this ensemble homage to the subversive humorists who changed the American comedy landscape.
News & Interviews for A Futile and Stupid Gesture
Critic Reviews for A Futile and Stupid Gesture
Audience Reviews for A Futile and Stupid Gesture
David Wain, director of famed comedies such as Wet Hot American Summer and Role Models, is asked to tackle a biopic of unsung comedian Doug Kenney, founder, creator, and life of National Lampoon. While the movie is flush with one liners, packed with an assortment of famous comedians portraying other comedians, and a real story worth telling, A Futile and Stupid Gesture is too self aware and stuffed with too much information to really drive home any particular point. I wouldn't call this film laugh-out-loud hilarious, but it does make you chuckle consistently from beginning to end thanks to Will Forte's fantastic portrayal of Kenney. I just think a story like this is better served being delivered as a documentary with personal tales from former members of the Lampoon brand instead of this meta delivery Wain gives us. The problem is I was so entertained by learning about how Lampoon became a comedic powerhouse (and the influence it had on the rise of other comedic drivers like SNL) that I nearly forgot toward the end of the film that this was still a movie about Kenney. Wain glosses over too much on both sides due to his need to jump back and forth between Lampoon and Kenney, especially over the back third of the movie when a deeper character study was needed to show just how disturbed Kenney became. Outside Forte, the list of names is endless for comedic actors asked to lend a hand. Domhnall Gleeson takes on the roll of his partner Henry Beard who never really gets much depth past the partner in crime. For some reason, I still can't peg Gleeson, and I'm still weary of his casting in most things. Additions of Joel McHale as Chevy Chase are spot on while other portrayals like John Gemberling bear nearly zero resemblance to John Belushi outside of size and first name. If someone was looking to get more information about Lampoon and how it came to be, A Futile and Stupid Gesture is certainly a good start to understand just how wide of a net the comic magazine cast in its early days in the 70's. For a deeper understanding about the brand an the man who started it all, deeper research is needed.
Lane Zieben
Super Reviewer
A Futile and Stupid Gesture Quotes
There are no approved quotes yet for this movie.
Discussion Forum
Discuss A Futile and Stupid Gesture on our Movie forum!