From Noon Till Three
(1976)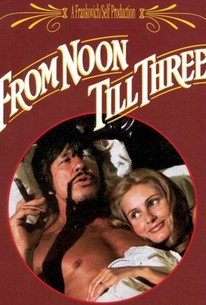 AUDIENCE SCORE
Critic Consensus: No consensus yet.
From Noon Till Three Photos
Movie Info
Written and directed by Frank D. Gilroy, this Western casts Charles Bronson as Graham Dorsey, a two-bit Western outlaw who has a three-hour affair with lonely Amanda Starbuck (Jill Ireland). When Dorsey is reported killed, Starbuck capitalizes on her liaison by building up the "legend" of the supposed deceased outlaw. Soon Dorsey has become an icon, glorified in song, fable, and dime novels. Imagine Starbuck's discomfort when he turns up very much alive, and extremely upset at being turned into Amanda's own private cottage industry. At the end, Dorsey isn't even left with his own identity. This picture is somewhat unconventional for a Western, downplaying violence in favor of characterization and dark humor.
Audience Reviews for From Noon Till Three
½
I will let nothing ruin our legend. A group of four robbers stop at a house on the outskirts of a small town in hopes of stealing a horse. The woman of the house claims she doesn't have any horses and the robbers send a man in to check in her barn. He comes out and reports she does not have any horses. As punishment, the man is told he has to stay behind while the three robbers go into town and survey the scene. While the robbers are gone, three hours, the woman of the house and left robber fall in love; unfortunately, the three robbers in town get caught and sentenced to a hanging. The robber at the house is convinced by the woman of the house to go save the men. He is captured and sent to jail and the woman of the house writes a book about their love story. After he gets out of jail, can the robber and woman of the house hook back up? "I'm willing to take a chance." "So am I." Frank Gilroy, director of The Gig, The Luckiest Man in the World, Once in Paris, Desperate Characters, The Turning Point of Jim Mallow, and Nero Wolfe, delivers From Noon till Three. The storyline for this picture is actually very interesting, well written, and well throughout. The characters, script, and acting are all excellent and the cast includes Charles Bronson, Jill Ireland, Douglas Fowley, and Anne Ramsey. "Where is everybody?" "I don't know and I don't care as long as they stay there." I DVR'd this classic Charles Bronson picture off cable recently. I am a fan of Bronson despite his very inconsistent resume. There are a lot of really bad films on Bronson's resume, but this is not one of them. This is actually a very smart and creative picture for the western genre. I strongly recommend seeing this picture and adding it to your DVD collection if you are a fan of the genre. "I never robbed a bank with a virgin before." Grade: A-
Kevin Robbins
I watched this thinking it would be another good movie by Charles Bronson but this is not one of is best, though a little funny at times still not a top movie.
Anthony Petry III
From Noon Till Three Quotes
| | |
| --- | --- |
| Graham Dorsey: | Graham Dorsey was no bigger, better-looking or braver than me. Which is to say, he was nothing but a side-winded faker and a shit! |
| | |
| --- | --- |
| Graham Dorsey: | That's not the way it was. I didn't give a damn to what happened to Buck and the others. She made me go. I am the real Graham Dorsey! |
Discussion Forum
Discuss From Noon Till Three on our Movie forum!