Generation Um...
(2013)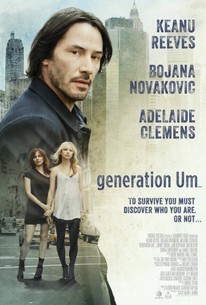 Movie Info
After partying in New York City last night, John and his beautiful girlfriends Mia and Violet form an intimate bond as their deepest secrets from their past are revealed. Friendships are tested and compromises are made as these three friends prepare to do it all again tonight.(c) Official FB
Rating:
R (for strong sexual content, drug use and language)
Genre:
Directed By:
Written By:
In Theaters:
On DVD:
Runtime:
Studio:
News & Interviews for Generation Um...
Critic Reviews for Generation Um...
Audience Reviews for Generation Um...
A really bad film. No plot, bad acting, terrible characters, Food Fight! is a better movie than this. Keanu, why? Who funded this. Who are the people that let this happen? I wish I could unwatch this.
Valerie Templos
This movie made folding laundry fun. [Not intended as a compliment] There's an interesting scene towards the beginning and there's one at the end, but the rest of it was like eating dry sand. That being said, it would be a good movie to trick someone with: Pretend it was terribly funny and at the same time utterly thought provoking. Recommended it to your friends, family and insist that they watch it in its entirety. Then, grab a bowl of popcorn, sit down and enjoy an hour and forty minutes worth of eye rolling and fidgeting as you watch them experience the feeling of hopeless and helpless agony that this movie undoubtedly delivers in large, cafeteria grade servings.
Rudi Coursen
A pair of women debating 'shit' versus 'shat.' A drunken woman toss and turn as she sleeps off a hard night of drinking. A man eating late breakfast ... describe a dream ... ask for ketchup ... then pour a dab of ketchup on his breakfast. He later videotapes a squirrel and some dogs at the park. 'Generation Um...' is a series of long, tedious, meandering scenes with no clear agenda or narrative. There's a cynical undercurrent the permeates every frame of this debacle, but whatever heady critiques were intended are overwhelmed by amateur-hour direction. There's no good summation of 'Generation,' except to say it's simply three New Yorkers being mundane for one day. None of the scenes flow together well. The film as a whole is essentially a home video of three uninteresting characters being less than interesting. The dialogue is sparse with an usually high ratio of 'profound' statements for every unremarkable line of poorly written crap. And every pseudo-philosophical thought sounds like it came out of an incredibly high stoner with an equally incredibly low IQ. By the time the characters do have any meaningful, dramatic-ish interactions, these conversations - however 'honest' - are unearned. The three main characters spend the first third of the movie either not interacting or merely tolerating each other -- so it's incredibly abrupt when they suddenly open up to each other. Moreover, since the film makes almost no effort to establish any sympathetic moments for the main characters, it then becomes difficult to care about any of their 'heartfelt'/'honest' answers to personal questions late in the movie. So, to put a bow on this - 'Generation Umm' makes little effort to make sense on any level, invents little time into establishing the characters with any sort of depth and results in a tangled mess of scenes that are absolutely not entertaining in any way. But perhaps 'Generation, Um...' does the best job of summarizing the experience of suffering this movie: "Shit don't mean shit ... unless it means shit and it only means shit if you need it to mean shit." And that is perhaps the most profound statement made in what is definitely one of the stupidest films of 2013. And it is very indicative of 'Generation Umm...' as a whole. In short: 'Generation Umm...' is a failure of basic storytelling, resulting in a film not worth enduring.
Paul Nicholas Carlson
Discussion Forum
Discuss Generation Um... on our Movie forum!