The God Who Wasn't There
(2005)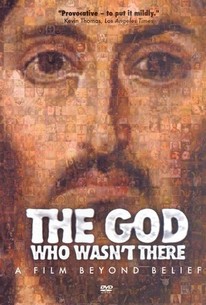 AUDIENCE SCORE
Critic Consensus: No consensus yet.
The God Who Wasn't There Photos
Movie Info
Former fundamentalist Christian Brian Flemming places the core concepts of his former religion under the microscope in a documentary that attempts to do for religion what Morgan Spurlock's Super Size Me did for the fast-food industry. In his bold quest to seek answers to the difficult questions that few are willing to pose, Flemming is joined by Deconstructing Jesus author Robert M. Price, renowned historian Richard Carrier, and The End of Faith author Sam Harris. From the ignorance of many contemporary Christians as to the origin of their religion to the striking similarities between Jesus Christ and the deities worshipped by ancient pagan cults and the Christian obsession with blood and violence, this faith-shaking documentary explores the many mysteries of the Christian faith as never before.
News & Interviews for The God Who Wasn't There
Critic Reviews for The God Who Wasn't There
All Critics (3) | Fresh (2) | Rotten (1) | DVD (1)
Embora exiba um amadorismo ocasional em seus aspectos técnicos (especialmente em seus gráficos e na narração) e seja curto demais, o filme defende sua tese de maneira interessante e articulada.
January 4, 2006 | Rating: 4/5
Its arguments are too thin as seen here on their own... but it will get people thinking, talking, arguing.
You can argue all these "facts" until you're blue in the face but there is one truth about religion that Flemming seems to overlook: the facts don't matter
Audience Reviews for The God Who Wasn't There
½
This was a good start to something bigger, but alas this documentary is not up to par with its successor "Religulous." This was trying really hard to be introspective and new with what it was trying to say, and it did do an excellent job having been researched very well and containing interviews from a variety of people on the subjects of faith, intolerance, blood, and violence. Still, filmmaker Brian Flemming is just too attached to this subject to sometimes be subjective. He does bring up some interesting points, including showing the violence in "The Passion of the Christ" and how that film as horrifyingly driven to make people see the gore of the story of Jesus and not the peace of his existence. That is a film that I have not personally seen, but from the death scenes that Flemming presents, it's pretty clear that there's nothing but horrifying wretched death to be had in that film. He also looks at the origin story and disputes some simple facts that Christians look past, such as the similar and earlier stories of Perseus, Mithras, and Hercules, which is again, a valid point. What Flemming doesn't seem to understand, is that there are many more contemporary issues to be had, and a longer and more intense documentary would be better able to handle every issue responsibly. Flemming only speaks about the points he feels strongly about, and though they are important, they are only the start of an entire debate that has been culminating for so long now that no one knows who started it. On the other end of the spectrum Bill Maher is smarmy and self-assured in his decision of secularism. He preaches it loud and proud while Flemming reassures throughout the film that he is right, and no, this isn't hubris. The ending, where he denounces his faith in the place where he had been frightened into believing for most of his life was a great way to end everything on a thoughtful note. It was personal for him to add his experiences to the documentary, but with a subject as large as religion you really need a slick curmudgeon like Maher to even out all the subject matter for it to really resonate.
Spencer S.
Super Reviewer
Okay, this couldve been better if he didnt go about trying to be all radical in the end. I liked it, oh and that part with The Slammin of the Christ, referenced in the film about Mel Gibsons Passion of the Christ, funny and gory stuff. But seriously this was interesting. Ok, ok, back to basics, the whole point of this film was about a guy who went out to find that dude in the poster. If you've studied Theology and the Bible, I encourage you to watch this and make up your own mind about it. ALWAYS, ALWAYS MAKE UP YOUR OWN MIND ABOUT THINGS and not because someone said so and so on and so forth. Y'know, all this commotion about Carlos Celdran, its the perfect time to watch this film. Recommended to watch along with Zeitgeist.
If you believe in magic and or myths you will most likley hate this doc and say that its something Satan created to test you.
James Alvarez
Super Reviewer
The God Who Wasn't There Quotes
There are no approved quotes yet for this movie.