Guilty as Sin
(1993)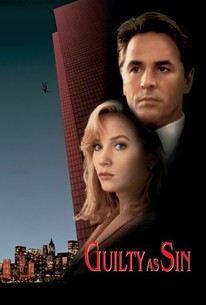 Movie Info
Sidney Lumet directed this Larry Cohen-scripted courtroom procedural that owes more than it should to Jagged Edge. Jennifer Haines (Rebecca De Mornay), one of the top female lawyers in the country and flush from the success of defending a gangster, has a new client to defend. A suave ladies man in an Armani suit, David Greenhill (Don Johnson) has come to solicit Jennifer's services. It seems that his rich socialite wife has been pushed to her death through an open window, and David stands to inherit a very large fortune. Needless to say, David is a prime suspect in his wife's murder. David admits to Jennifer the he is a womanizer and an oily manipulator, but nevertheless Jennifer decides to take his case as a challenge -- as she puts it: "People who are guilty are rarely this blunt." The result is an intricate chess game between Jennifer and David as they manipulate events, other people, and each other in order to determine the guilt or innocence of the playboy widower.
Critic Reviews for Guilty as Sin
Audience Reviews for Guilty as Sin
Already, Guilty as Sin is part of a tradition of cinema that can feel free of the corruption of reality, opposing it and doing so coolly. The premise is traditional, and the filmmaking is to represent ideology - the ideology of evolution. However, what makes Guilty as Sin extra special is its specific layer of eeriness. The world of the film is pretty, where everything looks elegant, and even alien (the courtroom in particular denotes this reality); the profession of law is not what it is relative to reality, but, it's purpose is to promote art's identity of conflation. The visual style of Guilty as Sin is exotic, to the degree that despite an already intriguing and sinister plot synopsis, the viewer should experience this 1993 thriller with dread, and anticipation. As a one time viewer, it amazes me how much I remember the film. De Mornay is her career-defining role with this film, and her co-star Don Johnson is so convincing as the part of the dubious and wicked client that it was hard for me to imagine Johnson playing any other part. Numerous times, the script of Guilty as Sin shows weird things - even relative to its genre - and it works to the effect of being genuinely confusing. It isn't that the characters behave in strange ways, but more that the overall reality is alien, and the characters within it are like a trapped normality. Guilty as Sin works. It represents the crime drama, and legal thriller well. I would even say that Guilty as Sin is a superior kind of art to Blade Runner, or to something like Pulp Fiction or Titanic: none of those three films have the instinctive power of Guilty as Sin, and its level of suggestive intellect. Most importantly, Guilty as Sin is why art and cinema exists. It is bizarre and rationality conflated, yet done so with a style that doesn't offend or irritate or just senselessly confuse the viewer. Like I said, the world of Guilty as Sin is demonic and alien, showing its characters occupying weird-looking environments, but the nature of the story rationalises this strange surface-reality. The events of the story itself are also strange at times, but it works because of the foundation of purpose: Guilty as Sin is a popcorn film, intelligently equipped with intellect. If I reflect on films like this year's Love and Friendship, or 2004's Crash, or a drama series like Downton Abbey, Guilty as Sin becomes all the more powerful, because of my knowledge that the root purpose of Guilty as Sin is to inspire its audience using reality, but not reflecting reality. Rebecca De Mornay is the symbol of reality's evolution, in this film.
Thomas H Cullen
½
Director Sidney Lumet has made a lot of great films over his esteemed career. and while "Guilty as Sin" will never be mistaken for any of them, it is a very entertaining and yet highly improbable thriller. He's a talented filmmaker, and he sells the story. Because of that, it hooks you and you buy into it despite your reservations. Larry Cohen will probably never win an Oscar as a screenwriter, but you have to give this guy credit where it's due; he spins an entertaining yarn and that is definitely the case here. The casting is good as well. Rebecca DeMornay and Don Johnson are both impossibly good-looking here, but you believe them in their respective roles. These are fun characters, and it's very enjoyable but sometimes silly watching them play their cat and mouse game. Johnson is especially good in a wonderful, scenery-chweing performance that gives him the rare chance to play the bad guy. He's a lot of fun, and Cohen gives him some juicy lines of dialogue. It's a rare twist in a courtroom thriller where the defendant's guilt or innocence is black and white right from the start. The ending, however, is a little too abrupt and wraps things up a little too neatly for my tastes, and the resolution seems disappointingly routine to me. The audience that has stuck with this audacious thriller for that long deserves a better conclusion. Clearly, seasoned filmmaker Lumet made "Guilty as Sin" as a lark, and when it works, it does so because of his skill and some fun casting. It's silly, but quite a bit as fun as well.
Timothy Sanders
I liked this better than I probably should have, I am partial to courtroom dramas, perhaps also it was Sidney Lumet?s direction. Don Johnson is quite good and well cast. Rebecca DeMornay is fair, she does the job but doesn?t stand out. I did find it suspenseful and I never lost interest. It had the expected twists,and it did go a little too far with the story. Otherwise, good story.
James Higgins
Guilty as Sin Quotes
There are no approved quotes yet for this movie.
Discussion Forum
Discuss Guilty as Sin on our Movie forum!