Half Japanese: The Band that Would Be King
(1993)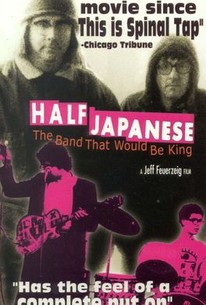 Half Japanese: The Band that Would Be King Photos
Movie Info
The first thing to remember when viewing this difficult-to-believe documentary is that there really is an underground band called Half Japanese and that the stories being told about their eighteen year musical career are, for the most part true. That being said, it is almost impossible to distinguish this evidently sincere documentary from the earlier (and entirely fictional) This Is Spinal Tap, which idolizes a similarly inept and clueless group of musicians and fans. Penn Jillette (of the gore-and-magic duo Penn and Teller, acknowledges that he is such a fan of the group that he took over as their producer. It is possible that the very naivete which this film captures is the source of the group's popularity - surfacing, as it did, in the lush, overcomplex and overproduced pop music scene of the late seventies.
Critic Reviews for Half Japanese: The Band that Would Be King
Audience Reviews for Half Japanese: The Band that Would Be King
½
I enjoy Half Japanese, but this documentary irked me. The film does a much better job of showing what smug snobs Byron Coley and Gerard Cosloy are than showing why anyone should believe Half Japanese is so uniquely brilliant. So much time spent on taking potshots at the major-label devil, and heaping ridiculous hyperboles on the band's untouchable supremacy...I don't think Coley and Cosloy are even serious, most of the time. What a waste. The film barely details the group's recording or touring history, scarcely explores the relationship between the Fair brothers and includes no talk of lyrics beyond glibly saying the band only writes love songs and monster songs. It also repeatedly touts the group's lack of musicianship and training, while totally ignoring that most of the music heard indeed does have mundane things like notes and chords and rhythms.
Eric Broome
Super Reviewer
What starts out as a documentary about the band Half Japanese, gets a little distracted around the middle portion, then gets back on focus towards the end. Half Japanese started in 1977 by two brothers David and Jad fair, who couldn't play their intruments but had their hearts and minds in the right place and would eventually carve a niche in independent/alternative rock for themselves. Personally I like their first album, Half Gentleman/Half Beasts the best. One critic in this film compares it to the John Coltrane/Rashied Ali album Interstellar Space, and I do agree with that comparison to a certain degree, the difference being that Coltrane and Ali were both expert musicians playing at the top of their game,and Half Japanese were just two young kids making some good noise. I like both albums equally and the end result's are very similar. Just goes to show that it's really about passion not technical proficiency, and both albums had plenty of it. The middle portion of the film gets distracted a bit and starts examining why a band like Half Japanese can't be truly successful in the major label/MTV sense of the word, and we see a lot of HJ fanatics bash the majors and MTV for a good 20-30 minutes. No real complaints from me there. Nothing would please me more than to see MTV and the majors burnt to the ground, but it does feel slightly out of place. Then again perhaps the filmmakers where trying to make a statement on the commodification and standardiztion of Rock n Roll, and music in general, and were using HJ as center piece, as opposed to a straight documentary about HJ. The film does go back to focusing on HJ themselves towards the end though. All in all a very good documentary centering around an underrated and important band, who more people need to check out. While my musical preferences tend towards the noisy and bizarre, the band did eventually evolve into a more than acceptable indie rock band, and their later material reminds me of Lou Reeds solo work in a lot of ways. Could be mainly Jad's vocal delivery, but thats what came to mind for me. Recommended.
Ed Fucking Harris
Super Reviewer
Half Japanese: The Band that Would Be King Quotes
There are no approved quotes yet for this movie.