Halloween 5: The Revenge of Michael Myers
(1989)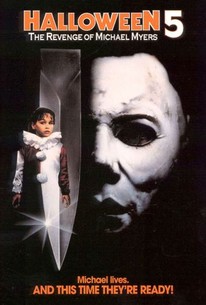 Halloween 5: The Revenge of Michael Myers Photos
Movie Info
Donald L. Shanks portrays the infamous murderer Michael Myers in the fifth Halloween effort, in which Myers sets out to slay his young niece (Danielle Harris), to whom he is psychically connected.
Rating:
R
Genre:
Directed By:
Written By:
In Theaters:
On DVD:
Runtime:
Studio:
Trancas International Films Inc.
Watch it now
Cast
News & Interviews for Halloween 5: The Revenge of Michael Myers
Critic Reviews for Halloween 5: The Revenge of Michael Myers
Audience Reviews for Halloween 5: The Revenge of Michael Myers
½
What began as a great rebirth of the Halloween series in The Return of Michael Myers turns quickly into mediocrity with the fifth entry. Halloween 5: The Revenge of Michael Myers throws all of the wonderful character study out the window established in the previous film and just aims straight on for pure terror only, and ultimately misses its mark. For starters, the overall style of the film is just way too busy. Odd camera angles and over-the-top performances don't really suit this series and they definitely don't work in this film. The score also sounds too much like a retread of the original score, making it hollow and uninteresting. From this point on, the Halloween series declines and just can't manage to rise to the occasion ever again.
Tim Salmons
Super Reviewer
Fifth entry in the Halloween franchise is an interesting direction for the series. Halloween 5 offers a darker take on the tale. It's pretty much more of the same as before, but it does have a few more things going for it. To say the least, the film has a few more creepy scenes added in the mix. Halloween is another solid sequel but at times it's pretty weak, but it does have a lot of redeeming qualities only diehard Halloween fans would love. The film does possess a very atmosphere, which adds so much to the overall film. As far as sequels are concerned, this fifth entry is a fine installment that though flawed, manages to delivers some good, effective jolts. But like I previously stated, this film does have a few weak moments, but overall, the film is pretty solid, and delivers something that the fans will enjoy. There have been a few bad sequels, but this fifth entry is not one of them. Die-Hard fans will be pleased with this one. I enjoyed the dark, creepy atmosphere. The acting here was pretty good as well, and the story was pretty well constructed as well. Usually sequels lose their intensity, but with this fifth entry, the filmmakers have made one of the better installments in the series, and considering that this is the fifth film, that says something. Halloween F is a good follow-up to the fourth entry in the franchise. A good entry, but not the best.
Dr. Samuel Loomis: I prayed that he would burn in hell. But in my heart, I knew that hell would not have him. "MIchael Lives, and This TIme They're Ready." I can't say that I hated Halloween 5: The Reveng of Michael Myers, but the extent to which I cared went down exponetially. It seemsto have lost that appeal numbers 1,2 and 4 had. Still, it's a fairly decent slasher and again, a somewhat fun time. SLasher franchises can only go on so long before they start to become tiresome and halfway through this one I had become almost tuned out to what was going on on the screen. I watched, but I really didn't care all that much. The movie is probably the second most ridiculous in the franchise, only behind Season of the Witch. THe mind connection between Michael and Jamie is stupid and poorly done. The only thing that really kept me watching and will make me watch the last couple in this series was my respect for the first couple and number four. I really enjoyed those three, so I thought I would give this a chance. I'm somewhat glad I did because I did like aspects of it, such as the barn scenewhere we are presented with 2 or 3 false scares. There have been worse slashers, but this is definitely the weakest SLASHER in the series. Don't evenask what number three was. It was a good franchise while it lasted.
Melvin White
Super Reviewer
Discussion Forum
Discuss Halloween 5: The Revenge of Michael Myers on our Movie forum!
News & Features