I'm the One That I Want
(2000)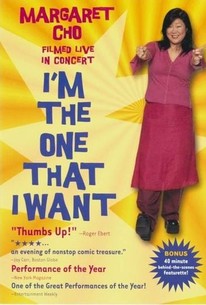 I'm the One That I Want Photos
Movie Info
Survivor of sitcom hell, whipping girl for the Hollywood caste system, self-described slut, unabashed fag hag, and, above all, fabulously funny comedienne, Margaret Cho is a legend unto herself. In 1994, Cho, a veteran of the stand-up circuit, was tapped to star in her own sitcom, All-American Girl. The ensuing insanity that came with Cho's stardom -- eating disorders, alcohol and drug problems -- taught her a hard lesson in Hollywood politics and the price of being cast as a role model for an entire ethnic group. Fortunately, Cho was able to overcome a number of obstacles to regain her sanity; even more fortuitously for her fans, she turned her experiences into the basis for her one-woman show, "I'm The One That I Want." The show, which proved enormously successful, included observations on everything from Hollywood hypocrisy, Cho's Korean mother, gay bars, doing a gig on a lesbian whale-watching cruise in Alaska, and why straight male porn actors tend to be so incredibly ugly.
Critic Reviews for I'm the One That I Want
Audience Reviews for I'm the One That I Want
Oh Lord. Margaret Cho beats that one trick pony over and over and over again. How many times can one put out the "shocking" material and pretend that it is comedy.
John Ballantine
Super Reviewer
I'm the One That I Want Quotes
There are no approved quotes yet for this movie.