Insutanto numa (Instant Swamp)
(2009)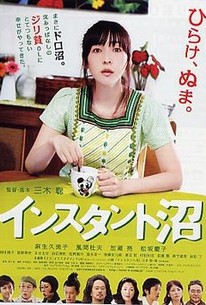 AUDIENCE SCORE
Critic Consensus: No consensus yet.
Movie Info
Haname is a lively and expressive young woman, blessed with a fertile imagination that occasionally conjures up some strange notions. She's dissatisfied with her humdrum day-to-day life and dreams of changing it all (except of course for the mucky mixture she guzzles every morning, which she wouldn't give up for the world). Moreover, despite the pronounced scepticism she holds towards the supernatural, a run of bad luck starts to convince Haname that she's been cursed ever since she tossed into a swamp all the gifts her dad gave her on her eighth birthday, the day he left the family for good. Among the objects was a cat talisman, which must have been cursed. Since then, nothing's gone right-the magazine she works for is on the verge of bankruptcy, recycling rockabillies have emptied her apartment, she's misplaced her pet rabbit on a rabbit farm after it lost its hat, and her mother's in the hospital after she nearly drowned while trying to fish for spirits with a pickle. But thanks to a letter her mom wrote just before the accident, Haname locates her father, an "antique dealer" named Light Bulb, and meets a punk rocker named Gus. Can they perhaps help her out of the mire her life has become?
Critic Reviews for Insutanto numa (Instant Swamp)
Audience Reviews for Insutanto numa (Instant Swamp)
½
Had it's moments, but couldn't call this one a favourite. About half an hour too long and doesn't make sense in places. Still, lead character with her swampy Milo addiction was sweet.
Nicki Marie
Super Reviewer
½
Good laughs. Satoshi Miki's quirky styled film, Instant Numa, is an instant success.
The excitable introduction, the surprising conclusion, and everything in between is pure entertainment. Despite the lack in clarity for where the story is going, watching the scenes unfold is amusing enough to make a movie, which is just under 2 hours, go by without any lackluster moments.
The film isn't a non stop laughing machine, but the laughs are there when needed. The eccentric nature of the film also livens up the story, which is fit for a full blown drama.
Kumiko Aso is the main attraction of the movie and there is no question about it. Her ability to bring out the wackiness of her character is a huge success, as her line delivery, facial expressions, and charismatic behavior makes every scene an enjoyable one. Props go out to the supporting cast as well.
Instant Numa is a good example of a fun Japanese comedy that isn't overly weird. There is delight to be had from this picture. Milo Sludge anyone?
Insutanto numa (Instant Swamp) Quotes
There are no approved quotes yet for this movie.
Discussion Forum
Discuss Insutanto numa (Instant Swamp) on our Movie forum!