Joe the King
(1999)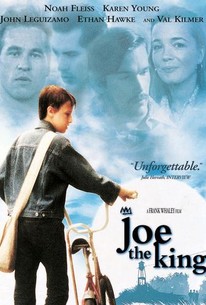 Movie Info
Actor Frank Whaley (from Swimming With Sharks) makes his directorial debut with this film about coming of age in the 70's. Joe The King made its premiere at the 1999 Sundance Film Festival, where it also won a screenwriting award. Joe is a nine year old boy (Noah Fleiss) who doesn't play with other children. Embarrassed that his father (Val Kilmer) is a janitor, Joe unsuccessfully tries to keep it a secret. Joe's father is also an abusive alcoholic who beats his wife and destroys her things (including her record collection). Taking his life in his own hands, Joe begins working as a dishwasher in a restaurant. He uses his salary (and more that he steals from the cash register) to help himself and his family, including paying off his unemployed father's debt and replacing his mother's record collection. Eventually Joe is caught and sentenced to a juvenile prison. Everyone takes Joe for granted, including his parents, who don't even come to see him on his one day of freedom. The film also stars Ethan Hawke as a guidance counselor.
Rating:
R
Genre:
Directed By:
Written By:
In Theaters:
On DVD:
Runtime:
Studio:
Trimark
Critic Reviews for Joe the King
Audience Reviews for Joe the King
In the end, Whaley opts to take the sentimental route, providing easy, crowd-pleasing answers to the serious questions he raises.
Lee Mayo
by Dane Youssef "ACTOR FRANK WHALEY ATTEMPTS THERAPY ONSCREEN" Frank Whaley's "Joe The King" has been called by the filmmaker himself "semi-autobiographical." And such a story about so much pain and misery just makes to almost want to see it just to see how thie guy got where he is today. It so damn downbeat, you have to ask yourself, "How does all this turn out? This poor little guy... Is there a happy ending?" Like a lot of actor-helmed vehicles, this one is loaded with big name walk-ons. They work, but at the same time, they disapoint. None of these characters are on the screen enough to make enough of an impact. "Joe The King" is chock-full of trite and truths to life--the lead that seems to be born into the hard-luck life, the abusive, alcoholic loser father, the weak-willed, weak-spirited, whimpering mother who doesn't care if her husband pounds on her kids as long as he doesn't pound on her, the guidance counselor who's all thumbs--aren't they all? Not just a cliche' in movies, but what guidance counselor has ever been worth in damn in life? Was yours? There is a moment where it is "Careers Day" in an elementry class where it is revealed that Joe's dad is the janitor. He is ridiculed an lashes out (very mildly) at an obnoxious litle teacher's pet and the Dickensian teacher drags Joe and spanks him in front of the entire class. The knife is further pushed and twisted when she makes the whole thing personal by muttering angrily so he can hear, "Just like your father..." Whaley is clearly dealing with old wounds and knows how to use them so they feel fresh and make you cringe (or worse, relate). The movie is full of downbeat moments and times where life shows it's ugly face. It seems as if God is very skillfully finding ways to torture Joe... and then skewering it further in smaller ways. In a moment of desperation, Joe attempts to do what his parents can't seem to... save the day. Joe is not only starving, he descends into petty theft. Then takes it even further. He attempts to dodge his father's outbursts and reach out to his brother, who is trying to eke his way into the "in-crowd" and doesn't want Joe's jinx streak to rub off on him, even to the point of at one point getting out of bed and going to go sleep the closet to get away from his brother's sad vibes. But "Joe The King" is not just one long crying jag. There is humor, sweetness and tenderness. People may differ about the nature of the ending, but in the strangest, saddest way, it offers some hope. The children swear in the tradition of "Stand By Me," the child-abuse or disregard in the tradition of "Radio Flyer" and the atmosphere is reminsent of many other films about working-class life. Unlike "That '70's Show" or "Detroit Rock City" or "Dick," this movie doesn't feel like it belongs solely in the era. It takes place in the 1970's to be sure, but a story like this feels timeless. Lead actor/title character Noah Fleiss gives on the the best performances he's probably ever given, although how many movies has he really made? And how many of them really have allowed him to shine? This is definately the one. Val Kilmer gives a just plain awesome turn as Bob, Joe's stinking, deadbeat drunk of a dad who's one of the biggest problems in Joe's life. He owes money to more than half the town. He dodges his creditors like bullets, drinks himself into a pathetic stupor and lashes out monstrously at his family. Kilmer, known for playing dazzling roles and pretty-boy parts, puts on a great deal of weight and shows nastier edges that he has since "The Doors." Since writer/director Whaley and Kilmer first worked together in that film, Whaley obviously saw how powerfully Kilmer could play a violent sadist, always under the influence of drugs. Kilmer has had trouble getting working because he's so damn dificult to work with, so the two were clearly doing each other favors. Another pal of Whaley's, Ethan Hawke plays a friendly, but utterly useless guidance counselor who hopes to get Joe out of his slump at school. And because it's Joe, he makes things a lot worse. Karen Young is adequate in a brief supporting part as Joe's mother. And hispanic wunderkind John Leguizamo, a natural comedic talent, takes a more dramatic turn here as a flamboyant busboy in an extended cameo at the local rathole diner where Joe is working illegally. When the shit hits the fan and Joe is at the center of it, it doesn't really come as a surprise that he's the only one who knew all along. Whaley seems to capture the flavor for this kind of working class life and he seems to bring out the best in child actors, as well as his more distinguished adult friends and peers. He also sends us back to the era without hitting us hard with period music on the soundtrack from the day. I myself was kind of surprised that this screenplay won the Waldo Salt Screenwriting Award (along with Audrey Well's "Guinevere"). The Open Palm nomination for the film itself, that, I can see. The dialouge is altogether realistic, without being nessicarily sharp or too memorable. And the characters are believable without being too fresh. Writer/director Whaley does an effective job of capturing the atmosphere of this Upstate New York working-class life and bring out the best in child actors and his big-name celebrity walk-throughs. Whaley has said that much of the story is inspired by the childhood of himself and his older brother, Robert Whaley, who is featured on the soundtrack and has a bit part. Good ol' Frank himself also has a directors cameo walk-on as one of many who the deadbeat Bob owes money to. He makes a personal house call, and he seems madder than the others Bob owes money to. He acts as a professional collector--the leg-breaking kind. He seems ready to kill Bob and after it's over, the sins of the father are, once again, visited on the son. So this is the Whaley E! True Hollywood story. More or less. There is a painful sadness that runs all throughout "Joe The King," and when you look at Frank Whaley, the roles he's taking on and heard him just talk as himself, you kind of see there's something here that Whaley has in him which he brings to his roles. Whaley deserves extra kudos for getting as far as he did after being dealt such a bad hand. A backhand, even. What of Joe? What of his friends, family, enemies, acquaintences? If you drink in this one, you can't help but wonder... "Joe The King" doesn't break any new ground whatsoever. But this is a slice-of-life film, and while technology, trends, art, ideas and ideals are constantly changing, some things remain trite and true no matter what era or part of the universe you're living in. Whaley chooses some appropriate music for his movie and some nice visuals. "Joe The King" is kind of an acquired taste, like many coming-of-age stories. It's more of a confessional than anything else. If you've lived a life somewhat like this, or in this part of the world or in this enviorment remotely, you'll understand... --Long Love The King, Dane Youssef danessf@yahoo.com http://profile.myspace.com/index.cfm?fuseaction=user.viewprofile&friendid=58175682 http://www.google.com/profiles/youssef.daneyoussefcom.dane http://www.amazon.com/gp/cdp/member-reviews/ASKUZHOKQ1W3E/ref=cm_pdp_rev_title_1?ie=UTF8&sort_by=MostRecentReview#R2MFYILVVRXX73 http://www.imdb.com/user/ur2718160/comments-expanded?start=0&order=alpha http://wiki.answers.com/Q/User:DANE_YOUSSEF http://www.epinions.com/user-surfur http://en.wikipedia.org/wiki/User:DANE_YOUSSEF http://en.wikipedia.org/wiki/User:SURFUR http://uncyclopedia.wikia.com/wiki/User:DANEYOUSSEF http://www.movieweb.com/u/dane_youssef/reviews http://www.youtube.com/SURFUR http://www.youtube.com/user/DaneYoussef?feature=mhum http://hairmetal.ning.com/profile/DaneYoussef?xg_source=activity http://www.flickr.com/people/46939743@N07/ http://twitter.com/Dane_Youssef http://www.neoseeker.com/members/daneyoussef/
Dane Youssef
Odd that the "TOP CRITICS' hated this movie, but others, including the RT Community have a positive opinion about it. I also liked the film
Craig Hartlove
Joe the King Quotes
There are no approved quotes yet for this movie.
Discussion Forum
Discuss Joe the King on our Movie forum!