Kill the Poor
(2006)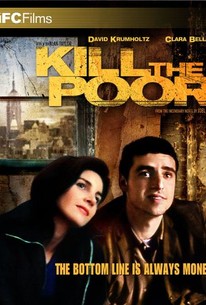 Movie Info
The down-and-dirty side of building management in pre-gentrification Manhattan sets the stage for this dark comedy. It's 1981, and Joe Peltz (David Krumholtz) runs a newsstand in New York City, where he has recently married Annabelle (Clara Bellar), an exotic dancer from France who isn't in love with Joe but asked for his hand so she could get a Green Card. When Annabelle discovers she's pregnant, the couple decides they need a larger apartment, and Joe finds a flat in the East Village that's on the same block where his great-great-grandparents lived when they first came to America. However, the neighborhood is decaying and ridden with crime, and when Joe and Annabelle move into their new apartment, he's immediately drafted onto the building's co-op board, where he has to deal with a variety of eccentrics of various stripes and must often sleep in the lobby armed with a baseball bat to ward off junkies and burglars. But by far his biggest problem is Carlos DeJesus (Paul Calderon), a bully who has been squatting in the building for eight years with his roughneck teenage son, Segundo (Jon Budinoff). Carlos sees no reason why he should start paying rent, and he's made enemies with practically everyone who lives in the building, wasting no time in adding Joe and Annabelle to that list. So when a gasoline fire guts Carlos' apartment, the question is not who wanted him out, but who actually had the nerve to start the blaze. Based on a novel by Joel Rose, Kill the Poor was written for the screen by Daniel Handler, best known as the author of the popular "Lemony Snicket" books.
Critic Reviews for Kill the Poor
Audience Reviews for Kill the Poor
This is a tiny little shoestring ensemble slice of life cross section, of eccentricly struggling to just-plain-not-quite-making-it humanity, produced in part by John Malkovich. Joe Peltz ( David Krumholtz ) buys a landlord abandoned squatter tenament in his grandma's old neighborhood now reduced to desecated abandonment to an overrunning desperate junkie population. He then moves in to become president of the tenant corporation and have his life swallowed whole by endless tenant meetings,one tenant with a mean anti-junkie baseball bat who refuses to pay rent whose son, Segundo(John Budinoff) vandalizes the place and threatens the other tenants, pulling guard duty against pipe stealing junkies, ripping off the hospital a few blocks away for their pipes to replace those enivitably missing every time he falls asleep and on and on et al. There's a typical Agatha Christi like sub-text plotline about who finally burned the bully Carlos (Paul Calderon) out and who's gonna pay for it. And a final denouement is where the one tragic death, in this whole messy hash of angst that is the whole life of run down squatter tennancy beyound the pale of reasonably affordable society, occurs. (Click the title and read that more comprehensive synopsis if your still interested.) The writing and the modest storyline and most of the dialog seemed natural and spontaneous most of the time. The very mild plot did seem to hold everything together neatly enough. It was enough to hold my attention & too short(1&1/4hr.) to let me get antsy or sleepy. One of those movies that leaves you contempletive more than agitated or comically releaved as its title implies.(seen on IFC commercial free while finishing up dinner)
Ken Lundgreen
Forget the drama, forget the action (there is little). What this movie offers is a different way to think about money and poverty, and we think about and treat both. While it was mildly unpredictable, the ending left me with more to think about, and examine, than almost any other movie I've seen. For entertainment or enjoyment, Ic an't recommend; but for thought proviking discussion or sel-examination of your own prejudices, I can't recommend it highly enough.
Big Bob
Kill the Poor Quotes
There are no approved quotes yet for this movie.
Discussion Forum
Discuss Kill the Poor on our Movie forum!