The Kindred
(1987)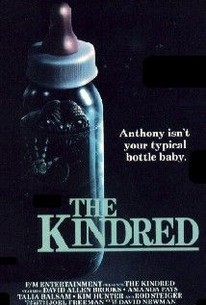 AUDIENCE SCORE
Critic Consensus: No consensus yet.
Movie Info
A superior follow-up to The Dorm that Dripped Blood from directors Jeffrey Obrow and Stephen W. Carpenter, this campy, slime-covered monster movie centers around a dark secret kept in the basement catacombs of an ailing geneticist (Kim Hunter), which turns out to be the bizarre end product of a gene-splicing experiment combining genetic material from her son with the DNA of an aquatic creature. The little guy -- dubbed "Anthony" by its creator -- breaks free to stalk Hunter's son John (David Allen Brooks) and his obnoxious friends before facing off with another loony scientist (Rod Steiger, in an absolutely hideous hairpiece). Filled with creepy surprises, audacious makeup effects and buckets of goo, this film's high point is provided by lovely Amanda Pays as Steiger's assistant, who proves late in the film why she kisses like a fish.
Rating:
R (adult situations/language, violence)
Genre:
,
Directed By:
Written By:
In Theaters:
Runtime:
Studio:
Vestron Video
Critic Reviews for The Kindred
Audience Reviews for The Kindred
Tons of slimey monster guts and great creature effects. reminds me of a Brian Yuzna or Stuart Gordon type of movie. The plot is a little hard to follow at first but at the end it all makes sense. Very under rated monster movie!
Ian Bracken
The Kindred is an amazing little gem I discovered finally (still wanting to kick myself for passing it over all these years) that combines elements of The Thing and From Beyond, two of my all-time favorite horror films, thus making The Kindred one of my new favorites. The Kindred built itself as an above average horror film that starred two highly celebrated actors: the scene-stealing Rod Steiger (whom I always thought had a soft spot for B-grade horror/sci-fi films after staring in the likes of End of Days, American Gothic, and The Amityville Horror) and the all-too brief appearance of Kim Hunter (most notably known from her work as Zira in some of the Planet of the Apes films). In actuality, the film focused more so on the character of John, a celebrated doctor of medicine and science whose long comatose mother (Hunter) awakens to warn him to go back to their old house to destroy all of her work and his brother Anthony, before she is killed off by Steiger's character. Clearly confused, John embarks on a trip to the old home along with his girlfriend, another doctor, played by the beautiful Amanda Pays (Leviathan), and some of his assistants. Rather than destroying the work, the team works to try and discover what John's mother was working on, but they're not alone in that house as we soon discover. The house is inhabited by a large mutated force, equipped with claws, tentacles, razor sharp teeth, and enough goo to slime the entire cast. Directors (and writers, among several other people) Jeffrey Obrow and Stephen Carpenter (both of whom made their debut on the surprisingly grim and bloody slasher The Dorm That Dripped Blood, or Pranks as most people know it as) manage to create an effects-laden, character driven, monster movie that is genuinely fun, entertaining, and sometimes creepy. Much like Pranks, the characters are developed very nicely to the point where you feel for them, and unlike Pranks, the body count is surprisingly low (though the deaths that DO happen are nice and violent), leading to a surprisingly-large group of survivors, which I thought couldn't have happened to a better group of characters. The effects, mind you, are dated compared to today's CGI-obsessed world, but these are the very effects I grew up on: prosthetics, animatronics, puppety, actual visible things that are really there and not fabricated on a computer. I honestly cannot say enough good things about this film. It REALLY needs to find a home on DVD. Terrific horror film.
Jason Duron
An old favorite Vampire soap opera. Without all the blood and gore you'd expect in alot of vampire films, this is a clean one. It has blood whenever needed but doesn't over-do it. Dramatic and beautiful story.
Holly F.
The Kindred Quotes
There are no approved quotes yet for this movie.