Lady L
(1965)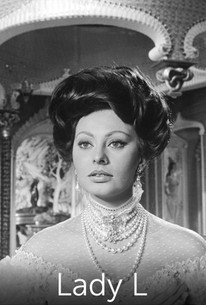 Movie Info
Lady L (Sophia Loren) is an 80-year-old woman who recalls her amorous adventures in flashback in this light sex comedy. While working as a laundress, Lady L falls for the gambler and anarchist Armand (Paul Newman), who gets mixed up with an inept group trying to assassinate the senile Prince Otto (Peter Ustinov). She ends up marrying the suave aristocrat Dicky (David Niven) in this entertaining but uneven feature.
Critic Reviews for Lady L
Audience Reviews for Lady L
Received poor critical reviews, but I figured with Sophia Loren & Paul Newman during the '60s there should be SOMEthing worth watching, right? Eh, not so much. Neither seems to be trying very hard, although Loren does light comedy nicely in some scenes with aging makeup to appear 80, but that pretty much defeats the eye candy aspect. Slow paced, dully plotted, and quite inconsequential - there's simply no spark to this movie.
Doctor Strangeblog
Super Reviewer