Legendary
(2010)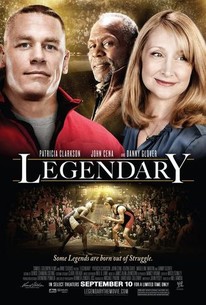 Movie Info
In the small town of Sallisaw, Okla., the Chetley name is synonymous with victory. This inspirational tale of a young man's dream to reunite his family through amateur wrestling is as triumphant as it is profoundly touching. Mike Chetley is a former high school and collegiate champion, estranged from his family. Things change when his awkward, undersized, younger brother Cal comes back into his life with a plan to unify Mike and their widowed mother Sharon, but not without major setbacks. With the guidance of Red, Cal learns that winning against all odds is worth more then he could have ever imagined.
People Who Like this movie also like
News & Interviews for Legendary
Critic Reviews for Legendary
Audience Reviews for Legendary
This film is quite predictable, formulaic, and far from original, yet it is well-meaning, inspirational, and I actually sorta liked it. It's flawed enough to where I don't feel quite comfortable enough to give it an extra half star, but I did enjoy it, and think that there are a few scenes that are okay enough to watch. So, in a rare move, I don't totally recommend the film, but I think it would be okay to watch if you rent it or something, like if you feel you need or just really want to see it. The story here is that of the classic underdog. Cal is a runt whose father and brother were local wrestling gods, but he is not wrestling material. He feels he has something to prove though, so he tries to follow in his family's footsteps, and in the process tries to better his life, come of age, and get his estranged family back together. This is total Hallmark stuff, but I do applaud WWE Films for making somehting not related to the horror or action genres. Graye is actually not bad as Cal. He's a convincing underdog. As Cal's brother Mike, John Cena brings some authenticity to the proceedings, despite his stiff acting and limited emotional range. Danny Glover is underused but it's nice to see him, even though his characters seems more like an angel than a human. Surprisingly though, it is Patricia Clarkson who really holds thigns together. She brings some needed weight and gravitas to things, even if she's put in better work elsewhere. Even though I think the character of Luli was mishandled and awkward, I don't totally blame Madeleine Martin. She's not great, but she's trying, and she seems like a nice and quirky girl, so there. Like I said, this film is nothing new, but I was never bored. The wrestling scenes are well done and you can tell they put effort into bringing some realism and integrity to their portrayal. For this to be a great movie it just also needed a better script and some stronger performances. It will please most viewers though, I'm sure. It's relatively inoffensive, has a lot of heart, and there are a couple of scenes I really liked. As Siskel and Ebert would sometimes do, I'm giving this a rare "thumbs sideways" because I'm just torn about it, and can't think of a better way to judge it.
Chris Weber
Super Reviewer
Well slap my back, and call me Sally!!! I really liked this little movie. John Cena is surprisingly good. Devon Graye gives a great performance in what should have been a breakout role for him, if only the movie had a wide release. Hopefully, he will get a chance in the future to become a star. In the meantime, watch this heart-warming movie about overcoming personal obstacles, and achieving more than victory!
Cynthia S.
Super Reviewer
½
It's not the greatest film of all time, but it definitely is a very good one. I found myself feeling every emotion that the cast was feeling, mainly, because it wasn't huge actors, but it was new actors who will one day become stars, and you are sitting watching this film thinking about things that are all related to this movie. It has a very gripping story, but at times the plot seems stale. It has it's very heartfelt moments just like any drama, but something feels special here. Danny Glovers character seems like nothing in the beginning, but in the end he is triumphant to the story. Great story, but it has been told before in a different way. I really liked it, but there is much room for better developement! However, not disappointing one bit!