Lipstick
(1976)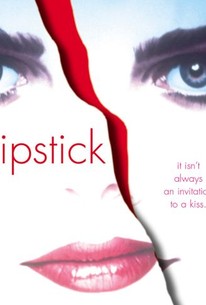 Movie Info
Lipstick is a cheap exploitation film pretending to make a social statement about rape and revenge. Chris (Margaux Hemingway), a fashion model is raped by Gordon Stuart (Chris Sarandon) her sister's music teacher. When he tries to rape her sister Kathy (Mariel Hemingway), Chris kills him. She is tried for the crime and defended by Carla Bondi (Anne Bancroft). Margaux Hemingway, in her film debut, is dreadful, giving a wooden performance which is only matched by that of the usually interesting Chris Sarandon. Despite some discussion of this film by feminist film critics, its only saving grace is the performance of Mariel Hemingway, who is also making her debut and gives the mature and nuanced performance she would again give in Manhattan. Lipstick, trite, bloody and dishonest, pretends to condemn rape but instead sensationalizes and exploits it.
Critic Reviews for Lipstick
All Critics (7) | Top Critics (1) | Fresh (1) | Rotten (6) | DVD (3)
A nasty film about a brutal rape that pretends it has something positive to say on the subject but remains content to be just another cynical exploitation film.
...a pervasively uneven drama/thriller that is, for the most part, simply too slow for its own good...
Lamont Johnson buys wholesale into scripter David Rayfiel's dissection of the fine line between image and reality.
Audience Reviews for Lipstick
½
A fashion model is brutally raped by an experimental composer who is acquitted by the jury. Later she gets a chance to mow him down in the street after he rapes her prepubescent sister, too. Moves seamlessly from cynical rapesploitation to implausible courtroom drama to perfunctory revenge drama, all the while dragging the Hemmingway name through its muck.
Lipstick Quotes
| | |
| --- | --- |
| Chris McCormick: | "He tried to kill me with it." |
| Carla Bondi: | "With what?" |
| Chris McCormick: | "His cock!" |