Louisiana Story
(1948)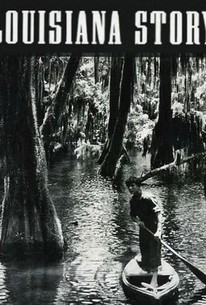 Movie Info
Documentary film pioneer Robert Flaherty's last feature is his most beautifully photographed work, but it also proved to be his most controversial as well. Sponsored by Standard Oil, the film can be seen as a paean to the minimal effect an oil company can have on the wilderness it seeks to exploit. Flaherty also picked a cast of amateur players to act out a simple story of a young Cajun boy (Joseph Boudreaux) and his parents living in Louisiana's magnificent bayou country almost side-by-side with a huge oil derrick, so the film's status as a nonfiction film has been challenged. The boy is at first disturbed by the clanging machinery, but the workers at the derrick soon show him the benefits of their labors and promise to leave the land unscathed when they've finished drilling. Aside from the arguable message the film's sponsor promotes, Flaherty's film is a continuation of his lifelong exploration of man's relationship to his natural environment, in such films as Nanook of the North and Man of Aran.
Rating:
NR
Genre:
, , ,
Directed By:
Written By:
In Theaters:
On DVD:
Runtime:
Critic Reviews for Louisiana Story
Audience Reviews for Louisiana Story
It's a little hard to judge because I (legally) downloaded a copy from, I think, the National Film Archive site? Eh, some site that has all sorts of public domain stuff available. My point is the quality of the file was rather poor, but from what I could see and hear, it was amateur actors extolling drilling for oil. Not bad, but kind of weird.
Andy Cramer
well, the photography is nice. the story is agonizingly thin and really drags. the characters are bland and the performances are dry and passionless--the most spirited character is probably the raccoon. the dialogue is scant, and a good portion of it is in unsubtitled French. if Standard Oil wanted to promote an environmentally-friendly image of themselves, they didn't need this 78-minute yawn-fest to do it. decent score, decent photography, but overall a dull, pointless film.
Brian Schnell
Strikes an odd balance of moods. Whether focusing on the untamed wild of the bayou or the complicated workings of the rig, the tone is simultaneously wondrous and dangerous. The balance is felt in the ebb and flow of tension in the narrative, the music, and the luminous cinematography. Even the way the actors are constantly smiling no matter what the circumstances adds to the unsettling-yet-bubbly atmosphere. The story itself is a bit thin and unsatisfying, however.
Martin Teller
Louisiana Story Quotes
There are no approved quotes yet for this movie.