The Mothman Prophecies
(2002)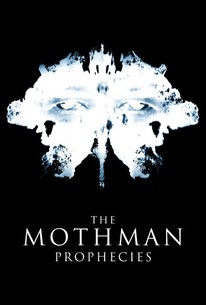 The Mothman Prophecies Videos
The Mothman Prophecies Photos
Movie Info
When John Klein, a respected Washington Post journalist, and his wife Mary find the dream house they have been hunting for, life could hardly get better. Then on their joyful ride home the dream is shattered when Mary crashes the car and is killed. While removing Mary's possessions from the hospital, John discovers a sketchpad covered with odd drawings, variations of the same eerie apparition. John is haunted by the unsettling images. One night, while driving from Washington, John loses his way and ends up on a deserted country highway in Point Pleasant, West Virginia -- four hundred miles from where he thought he was. When John decides to stay in Point Pleasant to explore the reports of unexplained phenomena in the town, he soon realizes that they may all be related - not just to each other, but also to the strange sketches Mary had been obsessively drawing just hours before her death.
News & Interviews for The Mothman Prophecies
Critic Reviews for The Mothman Prophecies
Audience Reviews for The Mothman Prophecies
I distinctly remember this film because of the bridge sequence. Mediocre to be sure, but maybe worth a late night watch when there's nothing else to do.
Tim Salmons
Super Reviewer
½
This incredibly drawn out film is not without potential, whilst it's weird, dark and unique, it somehow loses itself, which I feel is in the storytelling and just when you feel it's a little too dull the ending offers a little consolation for sticking with the film
Lady D'arbanville
Super Reviewer
½
As soon as I see Richard Gere's name in the credits of a film, I'm instantly put off. The man has made an absolute fortune without having any real ability and in this, he yet again proves he has a very limited range. Thankfully though, there is more to this film than Gere and his usual dull repetitive approach. He plays John Klein a Washington journalist, who after the death of his wife in a car accident, is somehow drawn to Point Pleasant, a small town in West Virginia, where strange and unusual events are happening to the locals. They are all living in fear, having premonitions and reporting sightings of a large black winged figure around the area. This is also the same dark figure that Klein's late wife claimed to have seen before her death, causing further obvious interest from the journalist and also putting his own life in danger. Supposedly based on actual events, this is a surprisingly tight and engaging little super-natural thriller. As mentioned earlier, Richard Gere is a plank of wood but the support from the always excellent Laura Linney and the wild eyed Will Patton are very welcome indeed. There is brilliant use of atmosphere and low-key music that raise this film above a particular standard and has many genuinely creepy moments. It doesn't try to be too fancy, wisely and effectively leaves a lot to the imagination and just gets on with telling an unsettling story. Which it does, to good and chilling effect.
Mark Walker
Super Reviewer
The Mothman Prophecies Quotes
| | |
| --- | --- |
| Alexander Leek: | You're more advanced than a cockroach. Have you ever tried explaining yourself to one of them? |
| | |
| --- | --- |
| Connie: | Wake up #37 |
| Connie: | Wake up #37. |
Discussion Forum
Discuss The Mothman Prophecies on our Movie forum!