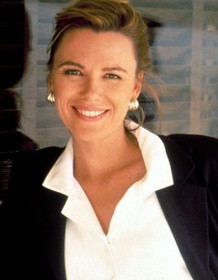 Lucinda Jenney
Highest Rated: 93% Matinee (1993)
Lowest Rated: 4% Wired (1989)
Birthday: Apr 23, 1954
Birthplace: Long Island, New York, USA
A blonde supporting (and occasionally leading) player of American stage and screen, Lucinda Jenney is perhaps best recalled as John Belushi's wife Judith in the biopic "Wired" (1989). The stage-trained actress began her career in NYC appearing on the soap operas "All My Children" and "As the World Turns." Early film credits include 1979's "Imposters" and "Hearts and Diamonds" (1984). After a run on Broadway in "Gemini," Jenney was tapped to play one of Kathleen Turner's friends in Francis Coppola's "Peggy Sue Got Married" (1986). She continued to amass stage credits as well as appearing in small roles in such films as "Rain Man" (1988), "Born on the Fourth of July" (1989) and "Thelma and Louise" (1991). Her performance as Jeff Bridges' girlfriend in "American Heart" (1992) brought her a nomination for an Independent Spirit Award as Best Supporting Actress. The versatile player garnered much TV exposure for her recurring role of a cop who accuses a co-worker of sexual harassment in the ABC drama series "High Incident" in 1996. More recently, Jenney offered strong support in the pivotal role of Demi Moore's only female friend in "G.I. Jane" (1997) and co-starred as one of Olympia Dukakis' two daughters in the 1998 CBS TV-movie "Scattering Dad." Her status continued to increase with key roles in two high profile releases: "Practical Magic" (1998), alongside Sandra Bullock and Nicole Kidman (as sibling witches), and "The Deep End of the Ocean" (1999), opposite Michelle Pfeiffer.
Photos
AMERICAN HEART, Edward Furlong, Jeff Bridges, Lucinda Jenney, 1993, (c)Triton Pictures
G.I. JANE, Lucinda Jenney, 1997. (c) Buena Vista Pictures.
CRAZY/BEAUTIFUL, Bruce Davison, Kirsten Dunst, Lucinda Jenney, 2001, (c) Touchstone
Revenge, Jeffrey David Anderson (L), Gail O'Grady (C), Lucinda Jenney (R), 'Loss', Season 4, Ep. #17, 03/22/2015, ©ABC
MOTHMAN PROPHECIES, Laura Linney, Lucinda Jenney, Will Patton, 2002 (c) Columbia
SUGAR TOWN, John Doe, Lucinda Jenney, Richmond Arquette, 1999, (c)October Films
WIRED, Lucinda Jenney as Judy Belushi, Michael Chiklis as John Belushi, 1989, © Taurus Entertainment
WIRED, Michael Chiklis, Lucinda Jenney, 1989
THIRTEEN DAYS, Kevin Costner, Lucinda Jenney, 2000, (c)New Line Cinema