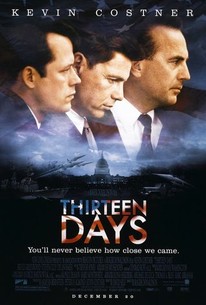 Thirteen Days
2000, History/Drama, 2h 25m
124 Reviews
25,000+ Ratings
What to know
critics consensus
Thirteen Days offers a compelling look at the Cuban Missile Crisis, and its talented cast deftly portrays the real-life people who were involved. Read critic reviews
Where to watch
Rent/buy
Rent/buy
Rent/buy
Rate And Review
Movie Info
For thirteen extraordinary days in October of 1962, the world stood on the brink of an unthinkable catastrophe. Across the globe, people anxiously awaited the outcome of a harrowing political, diplomatic and military confrontation that threatened to end in an apocalyptic nuclear exchange between the United States and the Soviet Union. Thirteen days captures the urgency, suspense and paralyzing chaos of the Cuban Missile Crisis.
News & Interviews for Thirteen Days
Audience Reviews for Thirteen Days
Great script, better than average costumes, decent acting (I say that even with Kevin Costner in a leading role!), good directing -- and lots of historical drama. "Thirteen Days" is the Cuban Missile Crisis lesson you wish you'd had in high school.

A good if not great film about the Cuban crisis. Bruce Greenwood and Steven Culp are excelllent Kennedy brothers..and Costner? Well, he might as well have stayed off screen. His Ken O'Donnell is annoying at best and adds nothing to the plot.

Government issues pertaining to John F. Kennedy and bad epics about a post-apocalyptic civilization; these are the things that attract Kevin Costner. Shoot, if they make an epic about the government covering up a zombie JFK from the public, post-apocalypse, which sound like a film that would no doubt be terrible, then forget about it, Costner's on board. Recently, he'd probably hop on just for the cash, because we haven't been seeing much of him lately, and I can't tell if it's because people are just now starting to realize that he's probably not the greatest actor or role-picker in the movie business, or because he decided to have a private marathon of some of his longest films. "JFK" alone actually runs thirteen days, and don't even get me started on "Dances With Wolves". Sounds like he's gonna give the late Howard Hughes a run for his billions upon billions of dollars worth of money when it comes to being locked in a screening room. Hey, I guess I can't blame him too much, because a good couple of his long films were pretty awesome (I said a good couple, most certainly not all, I said having not yet seen "The Postman" and having deemed "Wyatt Earp" underrated), and this film, while certainly not among the highlights, is still pretty decent. Still, if you thought "JFK" lost steam after a while, then just wait until you see this film, which may be considerably shorter than "JFK", but definately shows that Roger Donaldson is no Oliver Stone, no matter how much he very obviously wants to the point of also taking historical liberties by having Kenneth O'Donnell play a much bigger role in the CMC in this film than he actually did in real life (Sorry, Robert McNamara). The film dulls down on the rarest of occasions with its slower spots, yet what is much more prominent and decidedly more problematic than the slow spots are the more intense points, which aren't quite as tense as they want to be. Earlier, I glossed over the idea that this film is ripping clean from Oliver Stone's own style of storytelling from "JFK", almost as if I was joking, but really, I couldn't be more serious. This film aims to hit as hard as Oliver Stone is well known to have done with "JFK", in terms of marrying dramatic tension with political intrigue, but what director Roger Donaldson fails to realize and definately shows is that intrigue on a "JFK" level is no easy feat, and even that film lost steam after a while, so of course this film didn't stand a chance of falling flat after such long periods of total repetitious tension that may affect here and there, yet is, on the whole, more ineffective than it should be. This of course brings such flaws as a considerable lack of development and countless collapses into conventionalism to crystal clear attention, while giving the film some aura of pretension that makes the occasional odd stylistic choice (Why is it in black-and-white all of a sudden, outside of the fact that this wouldn't be a proper "JFK" rip-off without that gratuitous piece of random style?) and overdramatic emphasis on insignificant happenings sting all the worse. With its intelligence hurt and constant intrigue with it, the final product comes out as an unrelenting and occasionally spotty wannabe of a political thriller, and yet, at the end of the day, it remains a rather rewarding one. Perhaps the film could have used someone more like an Oliver Stone to do a study on the Cuban Missile Crisis total justice, but the fact of the matter is that the story is just too rewarding to turn away from. The execution of such a story is improvable, almost to the point of dragging this film down to the level of being simply just fine, yet Roger Donaldson delivers just enough to leave you walking away more satisfied with this study than not. Roger Donaldson's direction is quite flawed and his efforts could have very easily come out as too workmanlike to be upstanding. As things stand, however, while Donaldson finds himself off to a bumpy start, as the compelling plot thickens, his inspiration intensifies, rarely to the point of evoking, well, Oliver Stone, like he wishes we would, yet just thoroughly enough for the film to keep you going. This film follows a recognizable story, and one dramatized with so much unrelenting intrigue to the point of only losing steam here and there, yet when effective intrigue does finally bleed through, an event fairly frequent, it's rather hard to turn away and not find yourself wondering just what is to happen next, even though history has made things quite clear, as far as telling us where this story goes, and for that generally effective and ultimately triumphant compellingness, credit not only goes out to Donaldson for his periodically inspired moments, but his performers for their consistently inspired moments, even if the miscasting it pretty embarassing. Speaking of an I-can't-believe-they-didn't-bring-that-up level of mistake, on top of not really looking the Kenneth O'Donnell character, Kevin Costner's Massachusetts accent is glaringly bad (Speaking of "JFK", maybe he should just stick with doing Southern accents, because if it's an accent from anywhere else in the world, he's gonna butcher it), yet he shockingly manages to almost drown that out with charisma alone, giving us a very stern and authoritative, yet humanly vulnerable presence that may not be much more than a retread of the... Jim Garrison role (And yet more "JFK"), only with a much worse accent, but still has enough unique juice to it to win you over. Still, a particular standout in the film, to me, has to be Bruce Greenwood, who is sadly too terribly miscast as Jack Kennedy for you to be all that convinced, yet that's not enough to stop a powerhouse like Greenwood, who embodies JFK's strong leading authority and cleverness to the point of being bought as a such a powerful force, while drenching him in subtle humanity. However, as the situation unravels and calls for approaches to lead less to the rational and more to the take-action, that humanity in both the JFK character and Greenwood's performance begins to surface, giving Greenwood the opportunity to emphasize Kennedy's slow but sure rise in emotional compromise through emotion and raw grit in his atmosphere. Greenwood's graceful performance and Costner's charisma are among the more compelling aspects in this film, helping in giving the film enough juice to not only sustain general engagement value, but to ultimately transcend its many missteps and satisfy a rather rewarding political thriller, overambitious though, it may be. At the end of the thirteen days, the film's palpable ambition taints its tone with some level of pretention that's simply not all that justified, as the film's unrelenting and usually underwhelming attemps at tension leave it to lose steam, with limited exposition, many conventions and quite a bit of repetition making that steam-loss all the more extreme, yet the film shockingly transcends its many missteps by delivering on a generally and ever-ameliorating compelling tone of intrigue in executing the compelling storyline, thanks to Roger Donaldson's often inspired direction and the performers' - particularly Kevin Costener's and Bruce Greenwood's - consistently inspired perfomrances that ultimately leave "Thirteen Days" to stand as a generally genuninely intriguing and compellingly fascinating study on the Cuban Missile Crisis. 3/5 - Good

Pacing problems, but this is pretty well made, Kevin Costner kicks a lot of ass in this one.
See Details