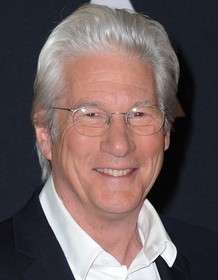 Richard Gere
Highest Rated: 100% And the Band Played On (1993)
Lowest Rated: 4% Movie 43 (2013)
Birthday: Aug 31, 1949
Birthplace: Philadelphia, Pennsylvania, USA
Long recognized as one of Hollywood's most bankable leading men, actor Richard Gere was at times almost as widely known for his brief marriage to supermodel Cindy Crawford, as well as his spiritual convictions to Buddhism and political support of the region of Tibet. Emerging as an up-and-coming talent both on and off-Broadway, Gere soon garnered attention for roles in films like "Looking for Mr. Goodbar" (1977) and Terence Malick's "Days of Heaven" (1978). A career-making turn as the titular "American Gigolo" (1980) made him an instant sex symbol, while his magnetic performance as "An Officer and a Gentleman" (1982) solidified his reputation as a top leading man. However, a series of box office disappointments followed, until his turn as a modern day Prince Charming opposite Julia Roberts in "Pretty Woman" (1990) once again made the actor a hot commodity. While offerings like the legal thriller "Primal Fear" (1996) met with modest success, Gere returned to his Broadway musical roots to reinvent himself onscreen for the Academy Award-winning film adaptation of "Chicago" (2002), which earned him a Golden Globe. Although he continued to work steadily over the following decade, it wasn't until the harrowing drama "Arbitrage" (2012) that Gere once again found himself on the receiving end of unanimous critical praise. He later made his first move to TV by starring in the British series "MotherFatherSon" (BBC 2018). Over a career that experienced its fair share of highs and lows, Gere remained a consistent film presence, frequently surprising audiences with new levels of craft and charm.
Photos
BLOODBROTHERS, Paul Sorvino, Richard Gere, Tony Lo Bianco, 1978, (c) Warner Brothers
YANKS, Richard Gere, Lisa Eichhorn, 1979. (c) Universal Pictures
THE HOAX, Richard Gere, Stanley Tucci, 2007. ©Miramax
RED CORNER, Richard Gere, 1997, (c)MGM
FINAL ANALYSIS, Kim Basinger, Richard Gere, 1992. ©Warner Bros.
AN OFFICER AND A GENTLEMAN, Debra Winger, Richard Gere, 1982, (c) Paramount
BLOODBROTHERS, Richard Gere, 1978, (c) Warner Brothers
CHICAGO, Richard Gere, 2002, ©Miramax Films
DR. T & THE WOMEN, Richard Gere, 2000, ©Artisan Entertainment
PRETTY WOMAN, Richard Gere, Julia Roberts, 1990
BREATHLESS, Richard Gere, 1983
BREATHLESS, Richard Gere, Valerie Kaprisky, 1983
YANKS, Richard Gere, 1979
DAYS OF HEAVEN, Sam Shepard (top), Linda Manz (bottom left), Brooke Adams, Richard Gere (bottom right), 1978, (c) Paramount Pictures
The Simpsons, Richard Gere (L), Yeardley Smith (R), 'She of Little Faith', Season 13, Ep. #6, 12/16/2001, ©FXX
INTERSECTION, Lolita Davidovich, Richard Gere, Sharon Stone, 1994, (c)Paramount Pictures
AN OFFICER AND A GENTLEMAN, Richard Gere, Debra Winger, 1982, (c) Paramount
AN OFFICER AND A GENTLEMAN, Debra Winger, Richard Gere, 1982, (c) Paramount
PRETTY WOMAN, Richard Gere, Julia Roberts, 1990
AMERICAN GIGOLO, Richard Gere, Lauren Hutton, 1980, © Paramount Pictures