Mutant Aliens
(2001)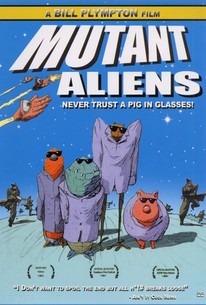 Mutant Aliens Photos
Movie Info
Astronaut Earl Jensen is blasted into space on a routine mission, which is sabotaged by the evil Dr. Frubar, a space program bigwig who plans to twist Earl's "accident" into public relations grist for an outlandish and costly new spacecraft initiative benefiting greedy advertiser cronies. Twenty years later, Earl's orphaned daughter Josie is an accomplished and obsessive astronomer, closely watching the heavens that swallowed her father. When Earl's long-lost ship unexpectedly plummets to earth, followed by a second craft containing bizarre alien creatures, Josie reunites with Earl, and a full-scale war ensues that pits the Jensens and their extraterrestrial friends against the Machiavellian Dr. Frubar. A family's vengeance and the soul of a nation hang in the balance!
Rating:
R
Genre:
, , ,
Directed By:
Written By:
In Theaters:
On DVD:
Runtime:
Studio:
Apollo Cinema
Cast
Critic Reviews for Mutant Aliens
Audience Reviews for Mutant Aliens
½
Mutant Aliens would have been brilliant as a short; there's just not enough story for a full-length feature, so the film seems strung together. Some viewers may feel as though, instead of watching a feature, they're paging through a book of rough sketches by a deranged Disney alumnus.
Lee Mayo
Bill Plympton's Mutant Aliens may just be one of the oddest pieces of American animation I've ever had the pleasure to view. Plympton is a cult artist whose attracted a huge amount of attention due to his unique and bizarre cartoony style, as well as his racey themes and complete inability to view anything as taboo, or at least so it seems. As a result, his movies fucking rule. Mutant Aliens is the tale of an astronaut, sent to space and betrayed by his country in order to rally more funding for the space department. He returns to Earth some years later, telling a fantastic story about his experiences on a planet filled with human organs walking around, but it turns out that isn't the full truth. The plot is bizarre and completely ridiculous, but you can't fault Plympton for his writing skills. The movie progresses in a captivating fashion, giving us a great balance of suspense and investment in this completely bizarre tale. An homage to classic monster B-movies, Mutant Aliens is certainly full of gratuituous sexuality and over the top violence, accentuated by Plympton's choppy animation style, which reminds us constantly of his independent investment in his films. It really does feel like Plympton has drawn every frame of this feature himself, with no help at all. By the time we figure out what is going on, we're getting a little sick of everything though. The scenes start to drag out, and the inconsistancies of the frames start to wear on us when we're left with nothing but a bit of boring plot advancement to captivate us. But the craziness comes back, and at the end of the film, we are pretty satisfied that what we've just seen is probably pretty god damn fucked up.
Alex Keipper
½
The writing is a little inconsistent, but who cares? I love what this film has to say. Also, it's funny as hell. Plympton is a genius.
Zach Cole
Discussion Forum
Discuss Mutant Aliens on our Movie forum!
News & Features