Open House
(2010)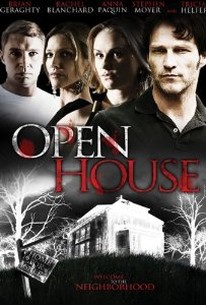 AUDIENCE SCORE
Critic Consensus: No consensus yet.
Movie Info
A woman trying to move on with her life is thrown into a potentially deadly situation in this independent thriller. Alice (Rachel Blanchard) has just broken up with her husband and has decided to sell the house they shared. Alice has been showing her home to prospective buyers when a strange couple sneaks into the house, David (Brian Geraghty) and Lila (Tricia Helfer). David and Lila are psychotic murderers who promptly kill a friend who was visiting Alice; Lila orders David to murder Alice as well, but for some reason he hesitates and instead locks her in a crawlspace in the basement. Over the next several days, David and Lily engage in kinky sex and pretend to live a life of bourgeois domesticity while slaughtering anyone who makes the mistake of stopping by the house; Alice, meanwhile, hears what's happening from her hiding place and begins to understand the strange bond between her captors and David's interest in her. Open House was the first feature film from director Andrew Paquin; his sister, Anna Paquin, appears in a supporting role, as does her True Blood co-star Stephen Moyer.
Critic Reviews for Open House
Audience Reviews for Open House
Effective in its minimalism, where the sound of a running faucet and unseen footsteps are meant to carry a sense of dread, and oftentimes they do. This rigid atmosphere gives the several quick bloody encounters an extra amplification of shock. Between Number Six on Battlestar Galactica and her similar-but-different role here, Tricia Helfer has perfected playing the role of manipulative seductress, while her partner Brian Geraghty portrays a silently scary psychotic all too convincingly, reinforced by his striking resemblance to the pudgy blond home invader in the original Funny Games right down to the collared white shirt. Their strange strained relationship provides a layer of interest rarely seen in a horror/thriller, and captive Rachel Blanchard slowly begins to see a rift that she may be able to exploit. The ending came as a surprise and rather squeezed me through a ringer. Bypassing the lone conspicuous flaw - how can this many people disappear without a search leading to their door? - Open House successfully creates and sustains a threatening atmosphere on a shoestring.
Doctor Strangeblog
Super Reviewer
Well I spotted this was directed by Anna Paquin's brother and also had Stephen Moyer from True Blood on the cover, unfortunately they are not the main stars of the film. Rachel Blanchard of the TV series Clueless is the main lead. This falls into the category of weird films, there isn't a lot of back story or explanation really into the why or what of what is going on. Reminded me a lot of Funny Games. Quite bloody and brutal, ok for a low budget film but a bit more plot would have be nice....and Anna Paquin!
A very good twisted tale. Entertaining from start to finish.
Jacob Palacio
Super Reviewer
Open House Quotes
There are no approved quotes yet for this movie.