Operation Chromite
(2016)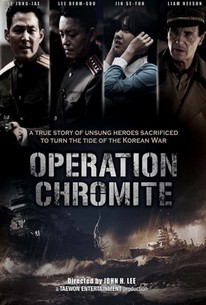 Operation Chromite Photos
Movie Info
South Korean Navy Special Forces, Captain Jang Hak-soo and 7 members of the KLO (Korean Liasion Office) unit disguise themselves as a North Korean inspection unit and infiltrate the North Korean army command center in Incheon. Their mission directives from Gen. MacArthur are: 1. Recon enemy forces in Incheon and secure the mine chart, 2. Kidnap 'Ryu Jang-choon,' the second highest ranking officer in the North Korean command center, to acquire intel on the naval mine location and 3. On D-Day, light the Palmido light house as a signal to the main UN forces.
Critic Reviews for Operation Chromite
Audience Reviews for Operation Chromite
Operation Chromite comes with pacing and script flaws but presents a great perspective on the Korean War and how tough it really was. The action is tense and unpredictable; you don't know who is going to survive until the very end.
Jacob Smith
Super Reviewer
Operation Chromite Quotes
There are no approved quotes yet for this movie.